Martial Arts Fan Favorite 'Fatal Contact' Debuts On Two-Disc Ultimate Ed. DVD Jan. 22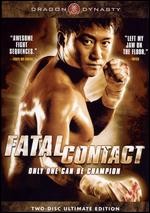 Up-and-coming martial arts sensation Jacky Wu Jing (
Kill Zone
,
Zu Warriors
) stars as a young athlete who gets tangled up in an underground boxing circuit in
Fatal Contact
, arriving as a 2-disc Ultimate Edition DVD January 22 under the Dragon Dynasty label from The Weinstein Company and Genius Products.
A naïve martial arts champion of China's national team, Kong (Wu Jing) is desperate for cash and with the added pressure from his girlfriend he reluctantly joins an underground fighting ring. Written and directed by Hong King Film Award nominee Dennis Law* (
Triad Election
, Love @ First Note), Fatal Contact presents a dark, amoral world with contemporary style, pace, and themes. Blending visually brilliant fight scenes with raw violence,
Fatal Contact
is broken up by occasional humor from the supporting cast, including funnyman Ronald Cheng (
My Lucky Star
, Dragon Reloaded). The Fatal Contact: Ultimate Edition DVD features cast interviews, multiple featurettes and more.
A naïve young athlete joins an underground prizefighting circuit to earn a little extra money to support his girlfriend. Surrounded by greed and ruthlessness, he is hardened into a brutal fighting machine, defeating opponent after opponent in a series of vicious battles, until he reaches the ultimate showdown where both his life and his soul hang in the balance.
Special Features:
- A Dragon Rising: A Featurette With Leading Man
- The Ringmaster: An Interview With Director Dennis Law
- Working Girl: An Interview With Co-Star Theresa Fu
- Young And Dangerous: An Interview With Co-Star Miki Yeung
- Life Is A Contact Sport: Behind The Scenes Of
Fatal Contact
- Feature Length Audio Commentary By Director Dennis Law And Hong Kong Cinema Expert Bey Logan
- Trailer Gallery
About Genius Products: Genius Products, Inc. (OTCBB:GNPI), along with The Weinstein Company Holdings LLC, together owns Genius Products, LLC, a leading independent home-entertainment distribution company that produces, licenses and distributes a valuable library of motion pictures, television programming, family, lifestyle and trend entertainment on DVD and other emerging platforms through its expansive network of retailers throughout the U.S. Genius handles the distribution, marketing and sales for such brands as Animal Planet, Asia Extreme(TM), Discovery Kids(TM), Dragon Dynasty(TM), Dimension Films(TM), Entertainment Rights group companies (Entertainment Rights, Classic Media and Big Idea), ESPN®, IFC®, RHI Entertainment(TM), Sesame Workshop®, TLC, The Weinstein Company® and WWE®. Genius Products, Inc. is the managing member of Genius Products, LLC, in which it holds a 30% equity interest.
About The Weinstein Company: The Weinstein Company was created by Bob and Harvey Weinstein, the brothers who founded Miramax Films Corp. in 1979. TWC is a multi-media company that officially launched on October 1, 2005. Dimension Films, the genre label that was founded in 1993 by Bob Weinstein, is also included under TWC banner. The Weinsteins are actively working on the production, development and acquisition of projects for TWC.