Marston Hefner Charged Over Domestic Dispute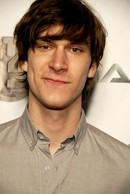 Playboy boss Hugh Hefner's son is facing the possibility of more than a year behind bars after he was charged on Tuesday with attacking his girlfriend.

Marston Hefner has been hit with one count of inflicting corporal injury on a spouse or cohabitant following his domestic dispute with Playboy Playmate Claire Sinclair earlier this month at their home in Pasadena, California.

The Pasadena City Attorney also charged the 21 year old with vandalism after he allegedly damaged Sinclair's laptop during the bust-up.

Marston now faces a year and a half in prison if convicted on both counts, reports TMZ.com.

Following his arrest, Sinclair obtained an emergency restraining order against Marston, who was later released on $20,000 bail. She later insisted she would not press charges if Hefner apologized and sought psychiatric help for his "anger issues."