'Mars' Moms Have A Real Lesson For Movie Kids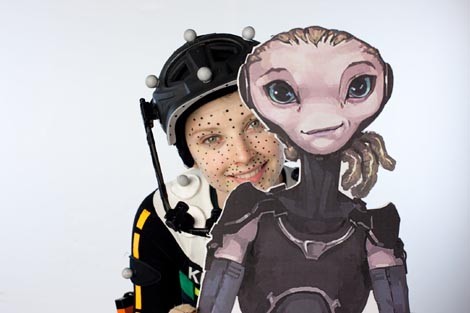 This week's Disney film Mars Needs Moms lets children live the fantasy of having their mothers abducted by aliens. The film's real moms had a lesson or two for the children who may watch. Joan Cusack plays the mother of a boy who travels to Mars to rescue her.
"Some of my most Oscar-worthy performances were done with my children," Cusack joked. "It's much more complex."
Mindy Sterling plays a Martian overlord in charge of kidnapping the moms. In real life, she's practicing a compassionate disposition as an example for her teenager.
"Our upbringing is all about kindness," Sterling said. "I try to teach my kid about being good to somebody else, not to be so selfish, commitment, the passion that you have for it following through. For me, there was a movie I saw years and years ago and there are not a lot of films that have such impact that I will remember something about them. I do remember it was Gilbert Grape. I remember there was a part when Johnny Depp was asked what do you want to be when you grow up, or what do you want out of life? I remember him saying something like, 'I just want to be a good person.' I swear to God, as silly and as little as that, to me that is who my family was and that is who I would like to be remembered that I was an incredibly good, generous person. That I try to teach my kids. It's really hard work when they're 16 as well. It's in treating everybody as a human being, I think we have to remember and go back to real basics. Everybody's at a different level but we're all on this earth to make a difference."
Cusack's mother gave her and her brother, John, their social conscience. "I think just as a role model, my mom is somebody who's very passionate," Cusack said. "She's really political. She grew up in a time when it was Vietnam, it was Catholic worker and that was her thing, being an activist. Just having seen that in my mom, that passion, is something that I'm grateful for because I think it's something I want my children to have too, the experience of feeling passionate about something, whatever it is. That's just a great part of life. She is, she's a kind woman. She's kind first and I think I'm grateful to learn that because I think you learn being mean too and you learn being kind. I think I'm grateful that as a mom, I get to be able to do something I love to do and have work that's meaningful to me. So that itch is scratched as a human and then you can really take the time to figure out how to be a good mom to your kids, because it takes a lot of energy to be a parent and be a good parent."
If you like this message, you can donate to a cause Sterling supports. She's raising money for the Leukemia & Lymphoma Society and she needs your help. "I'm running for man/woman of the year for the Leukemia/Lymphoma Association," Sterling said. "I would like to win woman of the year. I have never done anything like this. I am a 13 year breast cancer survivor. I lost my mother and father to cancer so I really want to become a part of this and I also want to show my son who said to me, 'You'll never win.' Ha ha ha, yes, I will. Don't ever tell your mother you can't do something. If you guys could just go on my website and give anything and help my win this, it would really be a lovely lesson to my son and also just to help something that any one of us could contract. They are making medicines nowadays from these donations that people are living through this so it's not a fatal disease yet, or never will be."
The link for donations via Mindy Sterling is http://los.mwoy.llsevent.org/msterling. Mars Needs Moms opens Friday.