Maroon 5 'V' (Deluxe Edition) Review: Two Sides To One Successful Record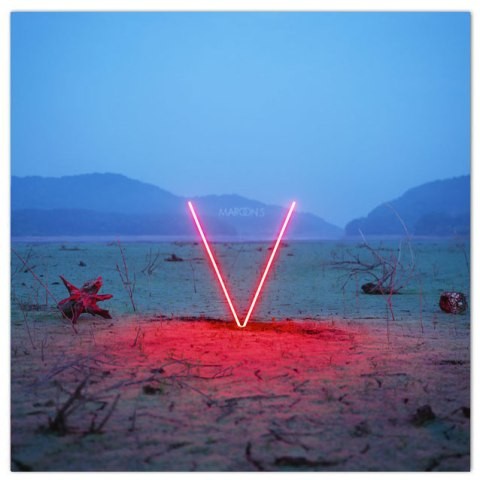 As mentioned in our review of Maroon 5's Overexposed, this is a band that's constantly evolving. None of their records sounds quite like any of the others; whether or not that's a good thing depends on which incarnation you prefer. Fifth album V does its part to continue the group's transition into slickly produced pop-rock that began with Overexposed, yet what makes the record worth a listen are the few tracks where it breaks from effects and goes back to the band's true musicianship.
If you've heard the first three singles - "Maps," "It Was Always You" and "Animals" - you've got a good sense of what the bulk of the record sounds like. There's a lot going on around Adam Levine's vocals, and sometimes that means his pure talent gets lost in the shuffle. Eight of the songs on the deluxe record sound more dance-pop, while "Sugar" tries to capture a more funk-pop sound, and as far as lyrical content goes, none of them have the heft or lyrical craftsmanship that came out of previous releases Songs About Jane or It Won't Be Soon Before Long. They're more entertaining than memorable or moving.
But that doesn't mean that they're lost causes, although some turn out better than others. "It Was Always You" and "Coming Back For You" are worthy inclusions, while "Animals" and "In Your Pocket" aren't so much.
And it doesn't mean that this great band has completely left themselves behind. There are some gems in here, too, when the production is stripped away. Levine still has one of the best voices in music, which is evident on "Unkiss Me" and "Leaving California," a pair of songs that also have more heart in them than the lead singles. They're the tracks that you'll find yourself thinking about long after you've finished playing through the record, and with good reason.
When you're just listening to Levine's pure vocals and the music behind them, it's a reminder that Maroon 5 is truly something special. Jesse Carmichael makes a welcome return with this record, and the rest of the band - James Valentine, Matt Flynn, Mickey Madden and PJ Morton - have always been consistently good no matter what new sound they're playing with. They're real musicians, and they don't need all the bells and whistles, even if there are a lot of them here.
Therein lies the battle of this record: the band's legitimate talent trying to coexist with commercial appeal. This is particularly obvious in "My Heart Is Open," the duet with Gwen Stefani. It's hard to see this as anything but convenient placement, given that it exists just as Stefani has joined Levine as one of the coaches on The Voice, but the track is also quite good - it's actually slightly reminiscent of "Out of Goodbyes," the collaboration with Lady Antebellum that appeared on Maroon 5's third album Hands All Over.
Speaking of Levine's other projects, "Lost Stars," the song that was heard in the trailer for his feature film Begin Again, is included here as a nice bonus for the fans who may not have purchased the movie's soundtrack. There's also a cover of Marcy Playground's "Sex and Candy" that turns out as well as the original.
It's also worth noting that every single song on the record has no fewer than three writers. Levine is still writing the songs, but he's doing it with a horde of other folks (multiple tracks have six writers). None of those co-writers are other members of the band, either; even on Overexposed, Valentine and Madden had multiple co-writing credits, and Valentine and regular M5 contributor Sam Farrar had producing credits, but this record is down to Levine and outside sources.
With V, Maroon 5 have created a record that strives to win over both sides of their deservedly huge fan base. There are the more produced, more pop-oriented songs that will certainly entice folks who loved Overexposed, as well as Top 40 radio stations. Yet for the listeners who still long for the days of Songs About Jane, or prefer their music with more heart, there are samplings of that as well.
This release will likely engender a lot of divided opinions, and the band would do well to ease up on the produced elements next time around. But it's an admirable attempt to answer a great problem to have - how to appeal to an audience that's followed the band from "This Love" to "Moves Like Jagger" and everything in between. V demonstrates that while Maroon 5 is now a lot of things - rock, pop, even dance-pop - the band is never, ever standing still.
Standard and deluxe editions of V are now available via any physical or digital retailer.