Maroon 5 Debuts At #1; 'It Won't Be Soon Before Long' Sells 429,000 Copies In The First Week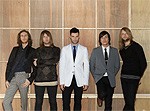 New York, NY (May 31, 2007) – Grammy Award winning A&M/Octone recording act
Maroon 5
takes the top spot on this week's Billboard 200 with their highly anticipated sophomore album
It Won't Be Soon Before Long
(A&M/Octone), selling 429,000 copies according to Neilsen Soundscan and breaking an iTunes record for biggest first week sales. The chart topping debut was predicted in early May, when chart watchers noted the enormous success of album's first single, "Makes Me Wonder," which broke a Billboard Hot 100 Chart record when the song jumped 64 positions in one week to land at #1.
"We, at A&M/Octone and the entire Interscope/Universal family, are extremely proud of Maroon 5's #1 debut," said James Diener, President of A&M/Octone Records. "It is the culmination of the band's dedicated artist development, both in the US and around the world. The #1 milestone is a fitting accomplishment and launch for their new album."
It Won't Be Soon Before Long
is the follow-up to the Grammy award winning
Songs About Jane
, which sold over 10 million copies worldwide. The new album was recorded in Los Angeles with producers Mike Elizondo (
Fiona Apple
,
Eminem
), Mark "Spike" Stent (
Bjork
,
Keane
,
Gwen Stefani
,
Marilyn Manson
), Mark Endert (
Madonna
, Fiona Apple), and Eric Valentine (
Queens of the Stone Age
,
Nickel Creek
).
"Defying pop's decline, the quintet appears poised to replay the grand slam of its debut"
- USA Today
"No sophomore slump here"
- Billboard
"Maroon 5 has suited up in formal wear and gone in for the kill.
'It Won't Be Soon Before Long,'
the band's sophomore outing is an icy-hot blend of electro-funk and blue-eyed soul that works its cruel streak with the confidence of
Daniel Craig
's
James Bond
" - LA Times
Maroon 5 will embark on a 6-city club tour beginning May 30th in Boston, making stops in San Francisco, Los Angeles, Minneapolis, Miami and New York. On July 10th, Levine and bandmates will open for iconic goup
The Police
in Miami, before preparing for their own world tour set to kick off next fall.
Maroon 5 is Adam Levine (vocals, guitar), James Valentine (guitar), Jesse Carmichael (keyboard), Mickey Madden (bass) and Matt Flynn (drums). Their debut album Songs about Jane earned the 2005 Grammy Award for Best New Artist, has been certified quadruple platinum in the U.S. and has reached gold or platinum status in over 35 countries. The album has sold over ten million units worldwide. In 2006 the group earned another Grammy for Best Pop Performance by a Duo or Group with Vocal for a live recording of their international hit single "This Love." Known for their commitment to the environment, Maroon 5 was honored at the 2006 Environmental Media Awards. For more information on Maroon 5, please visit
www.maroon5.com
.
-
Maroon 5 Pictures