Marlo Thomas Offers Demi Moore Her Support

Demi Moore's LOL co-star Marlo Thomas has urged the actress to stand strong amid reports her marriage to Ashton Kutcher is in trouble - because she would cry herself to sleep over the tabloid reports about her own union to TV king Phil Donahue.
 
Thomas and Donahue have been married for 30 years - but few fans thought the romance would last that long when the weeklies started running stories about the couple, just a year after the wedding. And the actress insists Moore and Kutcher can learn a lot from her experiences.

She tells BlogTalkRadio.com, "I don't ever believe anything. I can't tell you how many divorce rumors there have been about my marriage. When I was married a year all these stories were in the tabloids about how Phil and I were getting a divorce and how we'd seen lawyers. I had a quote from my father that said, 'It wouldn't last a year.' I was heartbroken and I cried and I carried on. My father (Danny Thomas) said to me, 'On the page across from your divorce story is a woman who gave birth to a whale. Now, do you believe the whale story?' I said no and he said, 'Well, neither does anybody else and nobody is gonna believe this either.'"

"He said, 'Your marriage will outlive them. Somebody else will get married who's famous and they'll move off of you,' and they did. So they'll (Moore and Kutcher) have to have this garbage about them and it'll pass. Nobody believes that anybody is happy. I don't know why but there's some kind of delight in thinking that nobody's happy."
 
Kutcher and Moore are currently fighting tabloid allegations he cheated on his wife while she was on location filming. The actor has fiercely denied the reports.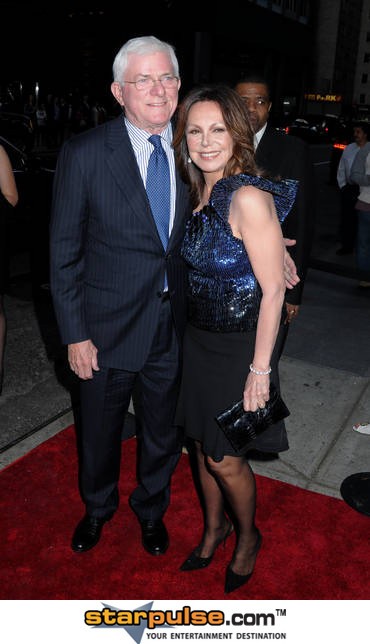 Click Here For More Demi Moore Pictures