Mark Wahlberg's Pal Eats Two Giant Balls Of Wasabi, Drinks Three Cups Of Tabasco (Video)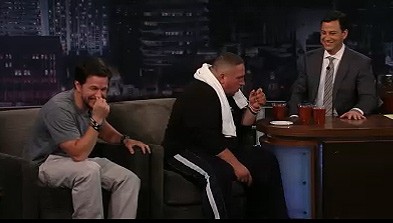 Mark Wahlberg gave a heavy-set pal a big TV break on Wednesday when he introduced him as an extreme eating expert during an appearance on Jimmy Kimmel Live!

The movie star/producer told Kimmel about his pal Nacho when he last appeared on the late-night show and he was thrilled when the host agreed to have him on the program alongside Wahlberg.

The Departed star explained that he first befriended his fellow guest after beating him up on the streets of Boston, Massachusetts in his youth and now they're close pals; Wahlberg uses him as his caddie when he's golfing and has employed him on movie sets.

And over the years he has come to realize Nacho has a talent for eating.

Wahlberg said, "It started out with sticks of butter for $5 and he would literally just (eat), like, 15, 20 sticks of butter, then a lobster - he ate the shell, a porterhouse (steak) - he ate the bone."

Nacho has since become a YouTube.com sensation after he was videoed drinking two cups of hot Tabasco sauce.

On the late-night show, Nacho reluctantly knocked back two balls of wasabi and three cups full of Tabasco sauce and Wahlberg sat beside him in hysterics, wiping tears from his eyes. Watch it below!