Mark Wahlberg's Foul-Mouthed 'Ted' Breaks Box Office Records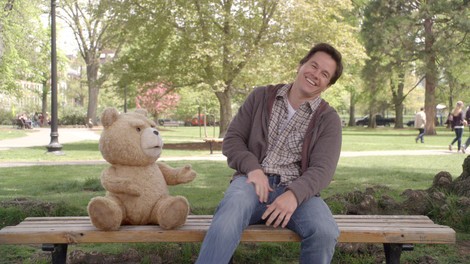 Mark Wahlberg's new movie "Ted," about a foul-mouthed teddy bear, stunned Hollywood by taking in $54.1 million over the weekend. The film debuted at number one and broke "The Hangover's" box office record for the biggest R-rated opening in the United States.
Wahlberg plays John Bennett, who as a little boy is granted a wish - his beloved teddy bear Ted (voice of Seth MacFarlane) comes to life. As an adult, John wrestles with the lingering consequences.
At number two at the box office was stripper flick "Magic Mike," starring hotties Channing Tatum, Alex Pettyfer, Joe Manganiello and Matthew McConaughey. The film made a very respectable $39.2 million.
Last weekend's number one, Pixar's "Brave," came in third place with $34 million.
Tyler Perry's "Madea's Witness Protection" had a strong opening with $26.3 million.  "Madagascar 3: Europe's Most Wanted" came in fifth place with $11.8 million.