Mark Wahlberg Honors Atlanta Heroes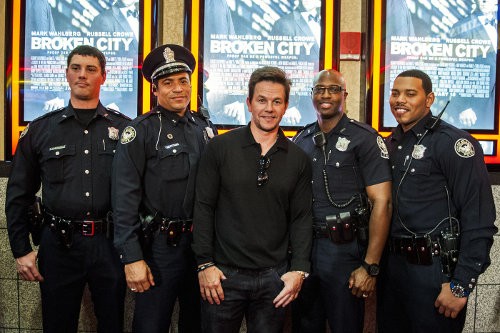 Mark Wahlberg saluted two local heroes in Atlanta, Georgia on Monday night as he screened his new movie in the city.

The Departed star was in town to unveil his new crime drama, Broken City, and he took time to present special plaques to two inspirational members of the community.

During the film premiere at a local cinema, Wahlberg paid tribute to former football star Warrick Dunn, who lost his police officer mother in an armed robbery 20 years ago and went on to set up a charity which helps single parents.

Atlanta police veteran Patrick Apoian, who was injured in the line of duty in 2011, was also feted for launching the Humble Heroes organization to aid injured police officers and firefighters.

Wahlberg spoke of his admiration for the two men, while he also spent time signing autographs for fans and thanked them all for turning out.