Mark Valley Brings His Toughness and Talent to 'Body of Proof'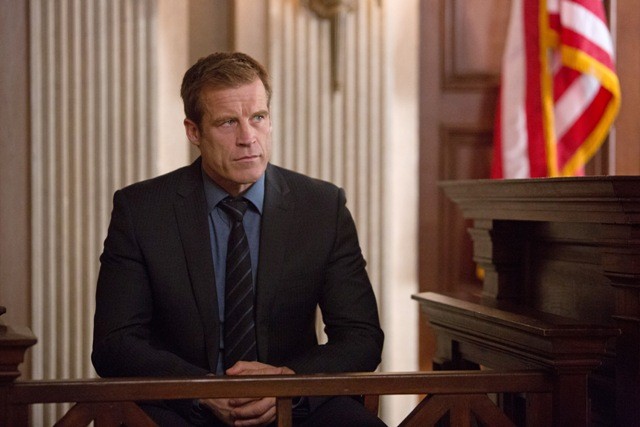 There's no greater badass on television than Mark Valley. As previously mentioned, the man has made a career of not only kicking down the door - but also playing characters who are as smart as they are tough, who have depth and nuance to go with their guts, and are never short of something to say. Oh, and he also happens to be one of the truly best guys in the business. Last week, BFTV had the pleasure of reconnecting with Mark to ask him about his new co-starring role on Body of Proof.
Mark is a living example of the saying "you can't keep a good man down" - he's never off our screens for very long, and he already looks right at home on the ABC procedural. What drew him to yet another TV series? "It wasn't so much that I wanted to go back [to TV]," he explained of what interested him about playing veteran detective Tommy Sullivan, "as I wanted to work with Dana Delany, because we'd worked together before [on Pasadena] and had such a good time. And the character, the way they described it to me, sounded like fun. I hadn't played a cop in awhile."
Yet Body of Proof, with its focus on Philadelphia medical examiner Megan Hunt (played by Delany), isn't quite your usual crime drama, either. "The show has a little more action and for a procedural, there's a little more interaction between characters than I expected. That was a really pleasant surprise," Mark continued.
It's his character that's ignited season three, with Tommy being the catalyst for a reinvigorated series. Not only has Mark brought his wit and perfect comic timing to the table, but one of the big questions of the season has been whether or not Tommy will be able to rekindle his romance with Megan from more than a decade ago. But with Megan constantly turning him down, Tommy may be moving on. Tonight's episode introduces a new recurring character, Officer Riley Sunn (played by Blue Bloods' Marisa Ramirez), who'll catch the detective's eye.
"It was really sort of a tough little needle to thread," Mark revealed, "with bringing in a new person who Tommy's showing some interest with, because Megan's just been rejecting him all season. That was a challenge - trying to have him realistically consider a different relationship."
But whatever happens between him and Megan, Tommy isn't just present to provide a romantic interest for Body of Proof's leading lady; he's a fully developed character in his own right. This season has already exposed his history with the New York mob, and Mark said that won't be the only glimpse into what makes the detective tick. "You'll start to find out some things that happened that brought him to Philadelphia," he explained. "You'll start to find out another reason why he left New York - or maybe had to leave New York."
There are also some intriguing guests ahead for him to deal with, including Christopher McDonald, who starred alongside Mark in NBC's Harry's Law, as well as Craig Bierko, and Henry Ian Cusick, who will reprise his role as Trent Marsh, the grief counselor from the season's eighth episode, "Eye for an Eye."
No matter who he's working against, playing the fearless Tommy - who's already confronted a mob boss and also saved Megan from being shot - is a perfect role for Mark, who's proven himself beyond capable of taking on roles that call for action. He saved countless lives as Christopher Chance in FOX's Human Target and even on the network's Fringe, in which he was dead for periods of time, he still got a good car chase in. If you're waiting to see him in action on Body of Proof, there's a little ahead. "There's a couple," he said when asked if audiences will get to see him in any action sequences. "It's mostly police stuff."
"In this show, I really tried to focus on being a little more of a realistic cop," he continued, crediting the show's technical advisor, Chic Daniel, who also fills the same role on TNT's Southland. "I've taken some pride this season in that Elyes [Gabel, who plays Tommy's partner, Detective Adam Schaeffer] and I have tried to be realistic."
Given his resume, it seems like Mark can do anything he tries to. Aside from lighting up the screen on Body of Proof, he's done comedy (Keen Eddie), sci-fi (Fringe), delivered the definitive version of a comic book character (Human Target), and proven that you can be memorable even when you show up at the end of a movie (Zero Dark Thirty). He's not only talented, but incredibly versatile. For the Body of Proof fans who have yet to crack his filmography, where would he recommend that they begin?
"I'd say if you want to have an enjoyable weekend, rent the Human Target DVD. Pasadena was pretty cool with Dana and I," Mark said. "But I'd really like people just to look ahead in this series." With how he continues to be one of the most reliable - and it's worth saying again, badass - actors on television, Mark definitely gives us a lot to look forward to.
Body of Proof is new tonight at 10 PM ET/PT on ABC; catch a sneak peek of the episode below. For more on Mark Valley, you can read the BFTV profile on this fantastic actor. You can also follow him on Twitter (@yesmarkvalley).
(c)2013 Brittany Frederick. Appears at Starpulse with permission. All rights reserved. No reproduction permitted. Visit my official website and follow me on Twitter at @tvbrittanyf.