Mark Ruffalo Explains Why He Chose To Direct 'Sympathy For Delicious' (Video)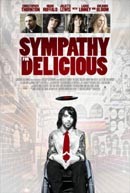 Mark Ruffalo's directorial debut, "Sympathy for Delicious" stars Ruffalo, Christopher Thornton, Juliette Lewis, Laura Linney and Orlando Bloom.
Dean O'Dwyer (Thornton) DJs in L.A. using stage name Delicious D. He' on the verge of stardom when a motorcycle accident leaves him completely paralyzed, and his dreams go up in smoke. Subsequently sinking into a deep depression while living out of his car on Skid Row, Dean takes the plunge into the world of faith healing following a chance encounter with Father Joe Roselli (Ruffalo).
In what can only be described as a miracle, Dean soon learns that he possesses a healing touch. Strangely, despite this power, Dean still remains bound to his wheelchair -- a prisoner in his own body. Furious, Dean rejects religion in favor of fame, and instead uses his newfound power to make a fortune in a volatile rock band fronted by The Stain (Bloom).
Ruffalo answered a question from Starpulse about his film.  Check it out below!