Mark Ruffalo And Son Join Anti-Pipeline Protest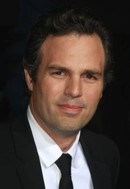 Actor Mark Ruffalo and his 10-year-old son joined a protest against plans to construct a major new oil pipeline across the U.S. in Washington, D.C. on Sunday.

The Kids Are All Right star has thrown his support behind a campaign urging President Barack Obama to reject proposals submitted by oil bosses at Keystone XL to build the controversial pipeline, which would carry oil from Canada through the heart of the U.S. to the Gulf of Mexico.

And green campaigner Ruffalo and his son Keen were among the demonstrators gathered outside the White House at the weekend expressing their concerns.

In a series of tweets, Ruffalo wrote, "Good Morning from DC. We are Rock'nDemocracy today 10000 people ring the WhiteHouse. Remind Obama to take care of us not KeystoneXL... Tell President Obama: Stop Keystone XL!"

He also posted a photo of his kid holding up a sign which read, 'Stop Transcanada Pipeline.'

In the caption, he added, "My dear sweet son Keen is here standing to defend his generation against Climate Change."

Ruffalo isn't the only celebrity making his voice heard - actress Daryl Hannah was arrested in August after taking part in a sit-in protest outside the White House, while former Seinfeld star Julia Louis-Dreyfus has issued a desperate plea to Obama in a short video posted online.