Mark Ronson Creating London Olympics Anthem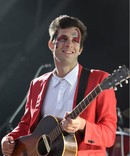 Mark Ronson has been chosen to create the theme tune for 2012 Olympic Games in London.

The superproducer, famed for his work with late singer Amy Winehouse, will come up with an anthem for the highly-anticipated event in the U.K.'s capital city.

The track will feature singer Katy B on vocals and will include sounds of athletes from around the world, including grunts and the sound of tennis balls hitting racquets.

Ronson was particularly inspired by British table tennis champ Darius Night's sounds, saying, "Sometimes he uses it to put off his opponents, and sometimes it is a sound of victory - to me it sounded like James Brown, so I knew I would use that."

The theme will also be used in one of Coca-Cola's London 2012 commercials and will be unveiled in March ahead of the games.