Mark McGrath Energizes Season 2 Of TruTV's 'Killer Karaoke'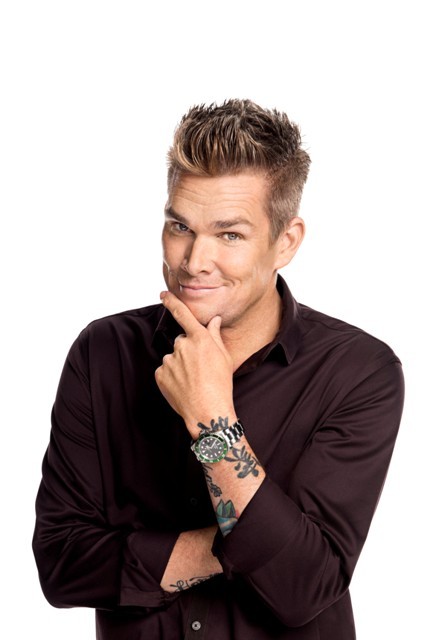 How do you make Killer Karaoke more awesome? You hire Mark McGrath to host it. The frontman of Sugar Ray and effortlessly awesome TV personality is taking over the reins for season two, and spoke to BFTV recently about coming aboard the insane game show. Why on Earth would he subject himself to this madness?
"I ask myself that every day," he laughed. "It's funny. I was on the road last year with Sugar Ray, and I got a call from my buddy Tony Yates. He's an executive producer on this show and I worked with him on Don't Forget The Lyrics. He provides such a great set, he's such a good guy. He said 'Steve-O is not coming back, he's busy, would you be interested in hosting Killer Karaoke?' And ironically I had just seen the show. It really just came out of left field."
"Every contestant was great. Every challenge is designed for maximum compelling viewership," he told us. "The whole show was memorable and I think you'll see that." It's also absolutely crazy, as you can see for yourself with the clip from tonight's premiere episode below.
With things like that going on around him, it's no surprise that Mark had a hard time holding himself together. "I was very unprofessional during the hosting of Killer Karaoke because I was laughing so hard the entire time," he confessed. "I doubled over in laughter. I was ruining takes. The producers were getting mad at me.
"I have the best seat in the house. I was literally getting slime on me when [the contestants] come back. I feel like I've gone through the show with them."
The object of the show is being able to sing no matter what happens, so what's the craziest thing that's ever happened to him during a performance? "There's been so many crazy things that've happened to me," he told us, like the Chicago stop of the 1997 Warped Tour, and what happened just as Sugar Ray was performing their hit song 'Fly'. "A lightning bolt came down, hit my microphone, and all of us just hit the deck simultaneously," he said. "It was like God came down and said 'All right, boys, either the set is going to be over or your careers are going to be over.'"
While Mark is still touring with Sugar Ray - they'll be headlining the Under The Sun tour again this summer, dates to be announced - he's also built up a substantial TV resume from his hosting duties on shows like Extra and Don't Forget The Lyrics. We asked him which gig he's most recognized for. "People call me Sugar Ray still, which is always funny to me," he laughed. "Definitely people know me from the band, but there is a certain sideways celebrity happening to from the things I've hosted and acting things I've done. It's kind of evening out. But I am a musician first and foremost."
It's not hard to see why he's found success on television, though. Mark's high-energy, relentlessly hilarious personality makes him impossible not to love. He's also happy to poke fun at himself, like when he told us about what else he's working on. "I was just offered a role in cinematic history. I will be in Sharknado 2," he quipped. "I don't think there's been a more anticipated film since Godfather 2." Hey, we say anything that gives us more of Mark McGrath is a good thing.
So what's Mark's go-to karaoke song? "If you want to do karaoke, go to 'Ice Ice Baby' by Vanilla Ice. Because it takes no singing skills and everybody knows it, everybody loves it," he told us. "My personal favorite is 'Easy' by The Commodores."
Killer Karaoke returns tonight at 10 PM ET/PT on TruTV, taking the time slot of Impractical Jokers, which moves up an hour earlier to 9:30 PM ET/PT. For more on Mark McGrath, you can follow him on Twitter (@mark_mcgrath) and visit his website (markmcgrath.com).
(c)2014 Brittany Frederick. Appears at Starpulse with permission. All rights reserved. No reproduction permitted. Visit my official website and follow me on Twitter at @tvbrittanyf.