Mark Hamill, Carrie Fisher & Harrison Ford Began Negotiating New 'Star Wars' Deals Months Ago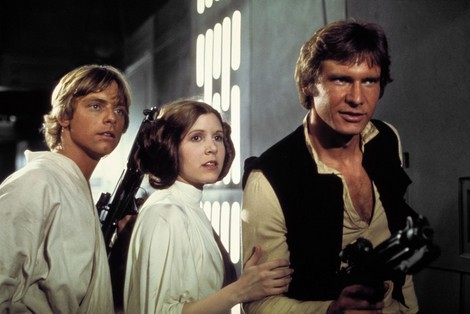 During an interview on Thursday Star Wars creator George Lucas all but confirmed that the saga's original three stars would be reprising the roles of Han Solo, Luke Skywalker and Princess Leia in Star Wars: Episode VII, slated for a 2015 release.

Lucas revealed that while negotiations to sell his Lucasfilm empire to Disney for $4 Billion were going on last fall, plans for a third Star Wars trilogy were also being hammered out with Disney, along with deals for Harrison Ford, Mark Hamill and Carrie Fisher to return to a galaxy far, far away.

Lucas spilled the beans to Bloomberg Businessweek, revealing that the stars' deals were all but worked out months ago.

"We had already signed Mark and Carrie and Harrison — or we were pretty much in final stages of negotiation," Lucas says. So I called them to say, 'Look, this is what's going on.'

"Maybe I'm not supposed to say that," he adds. "I think they want to announce that with some big whoop-de-do, but we were negotiating with them.

"I won't say whether the negotiations were successful or not."

Part of Lucas's deal with Disney is that he has some say in what happens with the new film -- he'll basically be playing the role of a consultant. The new film will reportedly be based on story outlines Lucas did for the third trilogy years ago, a big part of the deal from Disney's perspective according to Businessweek.

Another big part of the deal is Lucasfilm's "Holocron" -- a database with over 17,000 characters, thousands of planets and a nearly 20,000 year history of the Star Wars universe. The database is named after the crystals that the Jedi order uses to store their important data.

Michael Arndt, who won an Oscar for Little Miss Sunshine is writing the script for "Star Wars: Episode VII," and J.J. Abrams is set to direct.