Marisa Tomei Plans To Dig Deeper After Solving Family Mystery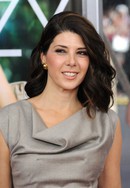 Oscar winner Marisa Tomei has pledged to delve deeper into her family's murky past after discovering the truth about her great-grandfather's death while researching her ancestry for a TV show.

The My Cousin Vinny star traveled to Italy to unearth secrets about her ancestors for Who Do You Think You Are? and she admits she turned investigator when she initially discovered her womanizing relative had been murdered.

The actress examined church and state records to find out if the legend that her great-grandfather was shot dead in a bar over a gambling debt was true.

Tomei uncovered the fact that his cause of death was listed as an illness.

She says, "The mystery still remains between the story of this murder and then this supposed illness. That still all seems suspect. So I'm just looking for any other kind of records that could connect those dots."

Tomei's TV investigation airs in America on Friday night.