Marisa Miller To Play Jeff Bridges In Police Ghost Movie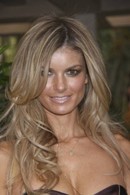 Supermodel Marisa Miller is to offer up her stunning body to Oscar winner Jeff Bridges in a new movie.

The Victoria's Secret star will be the human form Bridges' ghost cop character takes in the film R.I.P.D.

In the film, Bridges and Ryan Reynolds play representatives of the Rest in Peace Department, who track down misbehaving spooks causing chaos as they leave the earth, according to The Hollywood Reporter.

Miller isn't the only Victoria's Secret hottie to land a major movie role in recent years - Rosie Huntington-Whiteley played the leading lady in the latest Transformers sequel.