Marisa Miller Leaves Little To The Imagination In Naked, Pregnant Photo Shoot For Allure Magazine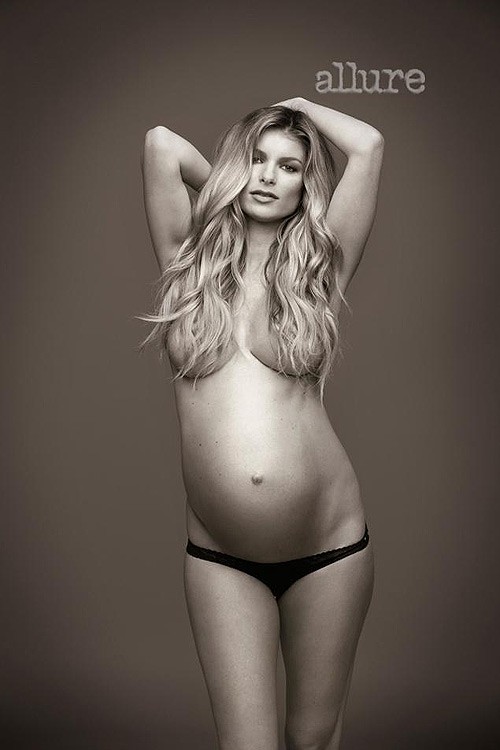 Marisa Miller leaves little to the imagination as she flaunts her temporary curves in a tasteful new nude & pregnant photoshoot for the January 2013 issue of Allure magazine.

The 34-year-old supermodel announced in June that she and husband Griffin Guess are expecting their first child; and within a month the couple shared that they're expecting a baby boy -- due sometime in December -- via Marisa's guest blog for People magazine.

"We just found out that we are having a ... BOY!!! We would be excited either way, but it was amazing to know for sure," she wrote.

Marisa, best known for showing off her sexy body in numerous Sports Illustrated Swimsuit Issues & Victoria's Secret ads, told Allure that it was actually easier to pose nude while pregnant than for past shoots.

"I always felt, even before I got pregnant, that it's better to accentuate your curves. A lot of women try to tuck their butt in or kind of slouch because they're trying to hide," she says. "Obviously, you can't suck it in, but it's important to really show off the belly. For some reason, for me, from the side, it looks the biggest, so that's what I tried to do."

She also discusses the changes she's had to make with her appearance -- namely with skin care, her hair and changing her fitness routine.

She's also taking preventive measures to avoid stretchmarks.

"My sisters both had babies this year and were really religious about preventative care," she explains. "I'd been on [fellow supermodel] Molly Sims's blog a lot -- she was in her third trimester when I had just gotten pregnant -- and she posted this recipe: shea butter, cocoa butter, coconut oil, and Vitamin E.

"I made it myself, boiling the ingredients, and I poured it into mason jars. I've loved the community of women who share their tips."

And as far as gaining pregnancy weight goes, Marisa explains that she could only handle it one way: acceptance.

"Embrace everything and all the changes. My sister said to me, 'You're eating healthy and you're working out, so whatever your body gains, it knows what it's doing.' I had never even owned a scale before, but gaining weight is part of charting your progress. Yes, I was seeing numbers I'd never seen before, but I let go of that because I had a new goal and focus. It's an adjustment, but it helps having a lot of positive support," she says.

Check out Marisa's full interview in the January 2013 issue of Allure magazine and at Allure.com.