Mario Lopez Violates Zoning Codes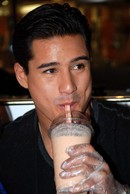 Actor Mario Lopez is facing a construction headache after starting work on a cabana at his historic Glendale, California home without the proper permission.

The former Saved By The Bell star, who is now a top TV personality, has upset city officials, who have demanded he cease building a pool cabana at his home, which is listed on the local historic registry.

The Los Angeles Times reports Lopez violated zoning codes when his contractor began work on the new addition without obtaining permits.

Lopez must obtain the proper permits before June 27 for the work to continue. Without them, city officials could force him to tear down the construction.