Mario Batali Revamps Recipes For Hellmann's 100th Anniversary (sponsored)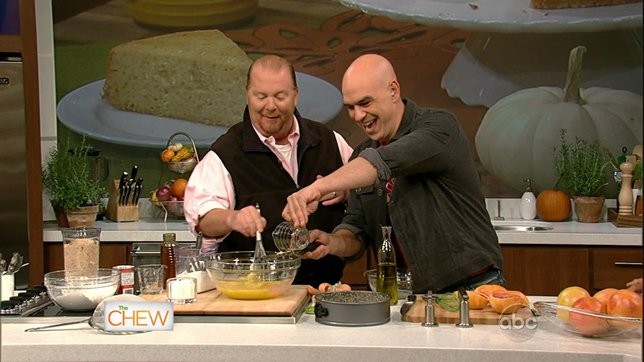 Mario Batali is back in the BFTV kitchen! The celebrity chef and co-host of ABC's daytime series The Chew rejoined us recently to impart more culinary wisdom. He's helping Hellmann's celebrate their 100th anniversary by making over some of the brand's most classic recipes, one of which he prepared for us.
Aspiring cooks can also visit Facebook to enter the "Create A Recipe with Mario" contest, where they can try mixing up one of Mario's dishes themselves - and one lucky winner will earn a trip to New York City.
While he was stopping by, Mario (pictured above with his Chew co-host and fellow chef Michael Symon) also told us about his sons' new cookbook, The Batali Brothers Cookbook, talked about cooking with his family, told us about his future restaurant plans - and revealed whether or not he's been keeping up with his golf game since he was featured on Golf Channel's The Haney Project alongside Sugar Ray Leonard, Angie Everhart and Maroon 5's Adam Levine.
Watch the video interview with Mario below. You can also find him on Twitter (@MarioBatali) and visit his official website (mariobatali.com).
(c)2013 Brittany Frederick. Appears at Starpulse with permission. All rights reserved. No reproduction permitted. Visit my official website and follow me on Twitter at @tvbrittanyf.