Marina And The Diamonds Talks 'Burger Queen Tour,' Hollywood Obsessions, & Upcoming Album
There's something about the 25-year-old one woman band that gossip bloggers can't stop buzzing about. Maybe it has something to do with Marina Diamandis of Marina And The Diamonds frequently making headlines for her couture.
While Lady Gaga is proudly pant-less and Rihanna likes it rough with S&M, Diamandis prefers her tamer choices, such as a Fafi graffiti dress, TV sunglasses, or a spiked bomber paired with a red hot pout. Perhaps some just don't have a "bloody sense of humor" to laugh at her Tweets about fellow singer Britney Spears. Either way, we're swooning over the Greek-Welsh beauty's pop-art album, The Family Jewels, a collection of extravagant ballads that are candied sweet one minute and dangerously sinister the next. Diamandis' vocals are so theatrically powerful that they would make Broadway divas faint from jealously.
From her operatic observations of American pop culture in "Hollywood" to the more delicate, somber anthem, "I Am Not A Robot," The Family Jewels is a cheeky musical journey of Diamandis' discovery of fame. Like a great Greek play, the album will have you laughing and crying right along with its heroine.
As Diamandis prepares to woo American audiences at this year's Coachella music festival on April 17, we chatted with the artist about her Burger Queen Tour, auditioning for a boy band, and her most prized possession.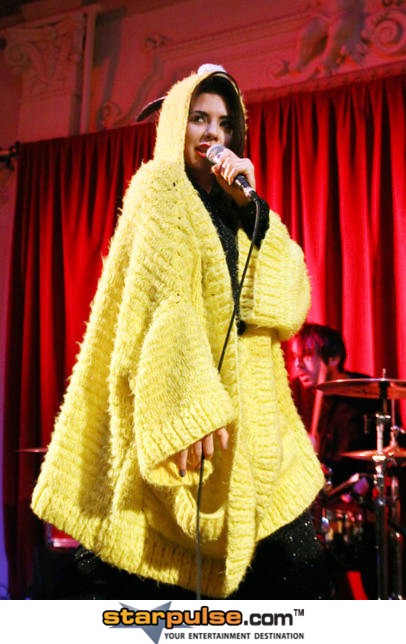 What should audiences expect from your upcoming Burger Queen Tour?

Marina Diamandis: I don't want to give a negative first, but it's scaled down from the British version. However, it showcases the whole Family Jewels album. I think The Family Jewels is a revelation of ending an addiction to things that don't matter in life. A lot of that, fortunately and unfortunately, involves American pop culture. I love pop art and Americana, so some of my visual inspirations are certainly based on that. I thought the name 'burger queen' sounded perfect. I hope Americans like it as well.

You're currently working on your second album. It may be too soon to talk about it, but how is it going to be different from your first release?

Marina Diamandis: All I can say is that I started writing it a year ago. I have two visions for it and they're very separate. I almost feel like putting out two albums, but that's probably not essential. I want it out as soon as possible. I don't know when as soon as possible is. I just want it to be fabulous first and then release it.

You once stated, 'I think all of what I nearly do musically is powered by an agenda.' What's your agenda now?

Marina Diamandis: I suppose that quote is true. I do have a memo all the time because I need to be guided by something in my life. I'm not religious and I don't have idols, so something has to drive me. It's funny because pop music is irrelevant and yet it's so relevant to life. I'm constantly in between the two. For the second album, I really come into my own as a person. I think I was in denial of who I am because I felt heavily judged. Love is really my nemesis. I never really allowed myself to indulge in such basic things because I was so motivated and thought that if I did I wouldn't succeed. I know it sounds crazy, but that's how it was.

What triggered your interest in music?

Marina Diamandis: I thought for a long time that I was going to be a pop artist. It was around 18-19 that I started to make that a reality. I just knew that this was my destiny. I was quite musical when I was young and played the violin, but then I quit, like I do with everything else.  

What are your thoughts on today's female pop artists and how they're treated by the media?

Marina Diamandis: I'm a lot more positive about it now than I was last year. I think female artists in pop music have it great. You've got people like Rihanna, Lady Gaga, and Katy Perry who are all winning. They are doing it by being very strong, opinionated females. Because of that, they're wildly successful. I think we have the upper hand right now.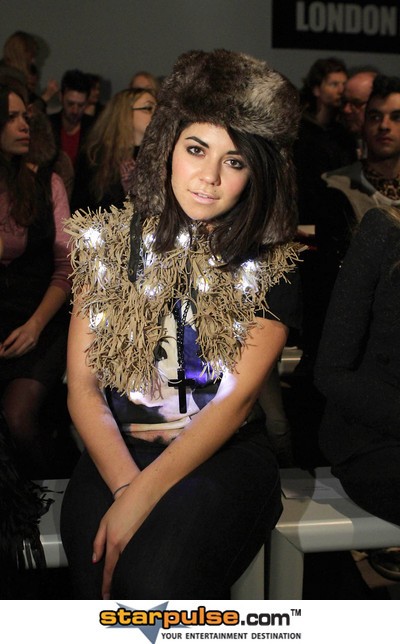 Is it true that you used to read biographies on Madonna for tips on how to become a pop star?

Marina Diamandis: I read every biography on Madonna. It wasn't just about getting tips. I felt connected with Madonna from a very young age. I think I share a lot of qualities from her personality. I really respect her.

What about auditioning for a boy band in drag? How did that turn out?

Marina Diamandis: Not great (laughs). I'm still challenging genders, though. That's what I like to say, so I'm less embarrassed by it.

What's your relationship like with The Diamonds, also known as your fans?

Marina Diamandis: I feel like half of me wants to be a massive star, but when I meet my fans, I feel like they're friends. The whole point of Marina And The Diamonds was to ignore this stupid, ridiculous, and hierarchical nature of my industry. I think it has gotten a lot better now, especially with people like Lady Gaga, who's a spokesperson for that. But, I felt like other artists didn't really give a shit about the fans and I hated that. That's how the name came about. I feel extremely passionate about my fans and I hope they never feel excluded. I really care about them and I would feel awful if something happens to them, like having to wait in the rain for a show. That breaks my heart.

You attempted to pursue the university several times now. Do you ever see yourself returning?

Marina Diamandis: I'm pretty sure it's behind me. I just feel that I learn more out in the world than inside a room stuck with a book. You never know, but I don't think I will. It's not a terrible idea. I think I'm too independent and I like reading on my own. If I want to learn about something, then I'll just buy 50 books on the topic and eat them up.

As the brand ambassador for Max Factor, what advice can you give to female fans who want to look and feel good about themselves?

Marina Diamandis: Actually, my advice has nothing to do with makeup. It's about your skin. If your skin looks like shit then everything else will be shit. You need to get a little more sleep and take your makeup off before you go to bed. You know when you're really hammered and you just want to roll into bed? No (laughs).