Marin Ireland: Meet 'The Divide's' Dynamic Leading Lady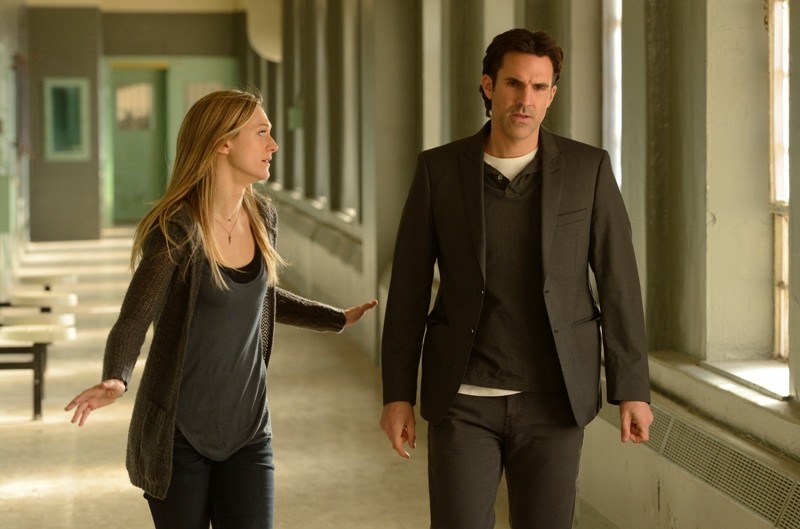 "And I felt, for me as a director, there's nothing more thrilling than thinking that you know something the general public doesn't know. I remember thinking that about Diane Lane when I did A Walk on the Moon, about Ashley Judd in Someone Like You, about Sam Rockwell when I did Conviction. Or Viggo Mortensen in A Walk on the Moon. [That] people don't know what this person can do - and I felt that about Marin.
"I thought she's right on the precipice of really breaking out, so that was very exciting. She was literally the first person who came in to read."
For her part, Marin told us what she considers some of her favorite roles, in both television and film. "I was really proud of the work I did on Homeland. You never know if things you're well known for are things you'll also be proud of, but I was very proud of that work," she said, referring to her six-episode arc as terrorist Aileen Morgan. "I did a great four episodes of a show called Boss that not a lot of people watched. I was in the second season of that; I had a nice little thing to do on it.
"There's a movie that I did called 28 Hotel Rooms with Chris Messina years ago. That was a very, very close project to both of us. most of he movie ended up being improvised. It's a very, very lovely movie," she continued. "And also another crazy little tiny movie I did called Sparrows Dance. That's me and an actor named Paul Sparks. Just the two of us. It's a beautiful movie, a very strange little poem of a movie."
Now she's hoping to affect people in an entirely different way as Christine Rosa on The Divide. What would Marin say audiences should look forward to as this first eight-episode sequence unfolds? "All I'll say is, when violence happens on our show, it's not for its own sake," she teased. "It's not explotative in any way. It was very specifically chosen. There are moments of violence in our show, and sometimes it gets pretty intense when it happens."
"What's important to me, really, is just that people know that the show isn't this heavy, sad thing," she explained. "There are big feelings in it. But it's important to me that people would tune into the show and be able to expect some humor and some real humanity. it's not just a dark, bleak atmosphere...There's a lot of fun and a lot of humor, and people kind of in all the different parts of their lives."
And that's what makes The Divide a superlative series. While the story of the Butler murder case is certainly compelling, that's not all this show is about, or even what's really at its core. That provides the impetus for discussions of issues like gender, race, class, and judicial inequality, and the exploration of characters like Christine Rosa, who don't fit into any neatly defined box.
To really create someone that complex, you need an actress who can carry the weight. There's no doubt that Marin Ireland is the right pick for The Divide, and hopefully The Divide will be the deserved showcase for Marin Ireland.
The Divide continues tonight at 10 PM ET/PT on WEtv; for more on the show, you can check out my interview with co-creator Tony Goldwyn. For more on Marin, be sure you're following her on Twitter (@MarinIreland).