Marilyn Manson Unveils Art Exhibit In Vienna

Marilyn Manson has unveiled his latest art collaboration with director David Lynch in Vienna, Austria. The shock rocker has been an avid painter since 1999 and has exhibited his work both in Europe and the United States.

Manson's latest collection, titled Genealogies of Pain, is a joint effort with Blue Velvet moviemaker Lynch, who has contributed a series of short films to the show at Vienna's Kunsthalle gallery. Speaking to Austria's Kurier newspaper, the musician admits he still gets scared of showing his art to the public.

He says, "I feel very comfortable when I'm on stage in front of thousands of people. However, it's quite frightening to come into a room that is full of my pictures and people looking at them."

"Art gives me the freedom I don't have when I make music. In music you feel a connection to the voice and think about the person behind it. In art that's secondary. When I finish a picture I don't show it to anyone if I feel it's not good enough yet. I've learnt to listen to my partners and my friends. For me it's the biggest success if they like it."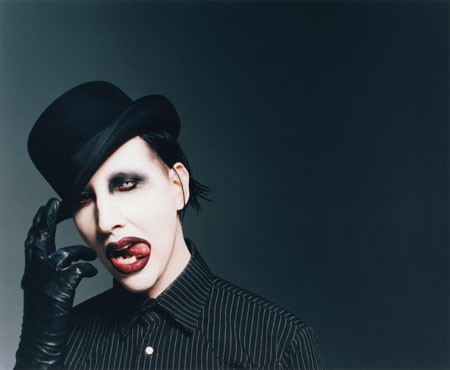 Click Here For More Marilyn Manson Pictures