Marilyn Manson: 'I've Tried To Kill People Before'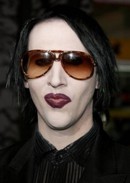 Marilyn Manson never wants to go back to jail.

The shock rocker spent two days behind bars in Florida in 1994 on indecent exposure charges and it was enough to make him realize he is not cut out for prison life.

He tells Revolver magazine, "It was a hard two days. I took a beating. I mouthed off and learned my lesson, washed my face in Palmolive (soap) in a toilet, that type of thing."

However, the fear of jail won't stop Manson, real name Brian Warner, carrying out a heinous act if he has to.

He adds, "I've done dangerous things. I've tried to kill people before... I feel that if someone f**ks with someone that I love, or means the world to me - be it friends, family, partners, my cat, my career - I'm gonna defend that in any way I need to."

"I'm not a conventional revenge person. I'm the type of person who will wait for someone's grandchildren to grow up, and then have them beaten with pipes, old-fashioned style."