Mariah Carey's 'Memoirs Of An Imperfect Angel' Set For Sept. 29 Release

After setting a long list of new chart records with her most recent hit "Obsessed," interna­tional superstar
Mariah Carey
, the top-selling female recording artist in history, now follows-up with her remake of
Foreigner
's classic "I Want To Know What Love Is" as the second single pick from her forthcoming new album on Island Records, "Memoirs Of An Imperfect Angel".
The special 2-CD package – disc one containing the full album, enhanced disc two containing four remixes plus two videos – is scheduled to arrive in-stores on September 29th. On Friday, September 18th, Mariah will make a special interview/performance on The
Oprah Winfrey Show
in support of the new album release.
UPDATE: Mariah's highly anticipated album "Memoirs of an Imperfect Angel" is out tomorrow, September 29th! It is being featured as an Amazon Daily Deal this week starting today. You can buy it a day early for $5.99 and download it on Amazon Mp3!
The majority of the tracks on "Memoirs Of An Imperfect Angel" were written and produced by Mariah,
Tricky
Stewart and
The-Dream
; the album was executive produced by Antonio "L.A." Reid, Chairman, Island Def Jam Music Group.
With virtually every new single she releases, Mariah Carey is setting new chart records, or extending the chart records she has already achieved. "Obsessed," released July 7th, is the most recent:
Her record-extending 29th appearance on the Mainstream Top 40 Radio Airplay chart, the most overall entries in the chart's nearly 17-year history; Her record-extending 23rd appearance on the Billboard Hot 100 Airplay chart; Mariah's highest debut (at #11) on the Billboard Hot 100 since 1998 ("My All"); Her 40th appearance on the Billboard Hot 100, making her just the 8th woman in the chart's history to make 40 or more appearances.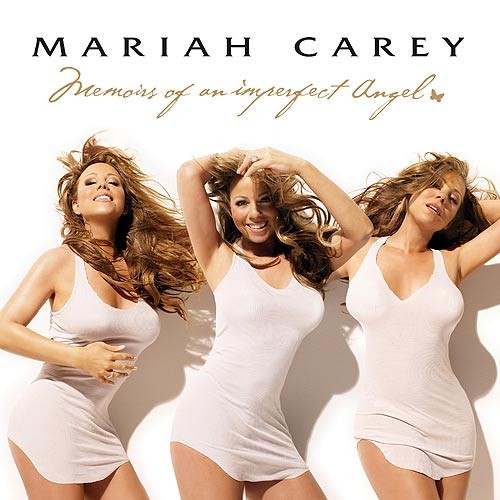 "Memoirs Of An Imperfect Angel", Mariah Carey's 12th studio album, is the eagerly anticipated follow-up to her multi-platinum-selling album
E=MC²
(released April 15, 2008), and her worldwide 10 million selling
The Emancipation Of Mimi
(released April 12, 2005). Both were Sound­scan #1 debut albums that made chart history for Mariah in the U.S. and numerous territories around the globe.
"The Emancipation Of Mimi" generated three Grammy awards (including Best Contemporary R&B Album), two #1 singles, and countless more honors during its 18-month chart stay. The album debuted at #1 on first week sales of 404,000 copies, Mariah's highest first week sales total (until "E=MC²"). Soundscan's biggest-selling album of 2005, Mimi featured "We Belong Together" (Grammy winner for Best Female R&B Vocal and Best R&B Song) and "Don't Forget About Us," Mariah's 16th and 17th #1 career singles respectively. They tied one of the most enduring chart records in Billboard Hot 100 history,
Elvis Presley
's 17 #1's.
Three years later, "E=MC²" debuted at #1 on first week sales of 463,000 copies, which now stands as the highest first week sales total of Mariah's career. The album's success brought total sales of Mariah's albums, singles and videos to more than 175 million worldwide, distancing her even further from the pack as the top-selling female recording artist in history.
"E=MC²" spun off four singles: "Touch My Body," "Bye Bye," "I'll Be Lovin' U Long Time," and "I Stay In Love." Of these, "Touch My Body" made history when it became Mariah's 18th #1 Hot 100 hit, thus surpassing Elvis Presley. "Touch My Body"'s two weeks at the top also marked Mariah's 78th and 79th cumulative career weeks at #1, which tied Elvis' long-standing all-time high of 79 weeks at #1, as calculated in Billboard.com. At the same time, Mariah is now positioned as the only active recording artist in the 50 years of the Hot 100 (which began in 1958) with the potential to surpass the
Beatles
' all-time high of 20 #1 hits.
The final track list and sequence is confirmed:
Disc One - Album:
1. Betcha Gon' Know (the prologue)
2. Obsessed
3. H.A.T.E.U.
4. Candy Bling
5. Ribbon
6. Inseparable
7. Standing O
8. It's A Wrap
9. Up Out My Face
10. Up Out My Face (the reprise)
11. More Than Just Friends
12. The Impossible
13. The Impossible (the reprise)
14. Angel (the prelude)
15. Angels Cry
16. Languishing (the interlude)
17. I Want To Know What Love Is
Enhanced Disc Two - Obsessed Remixes:
1. Cahill Radio Mix
2. Seamus Haji & Paul Emanuel Radio Edit
3. Jump Smokers Radio Edit
4. Friscia and Lamboy Radio Mix
Obsessed Videos (directed by
Brett Ratner
):
1. Video (single version)
2. Video-remix featuring
Gucci Mane
.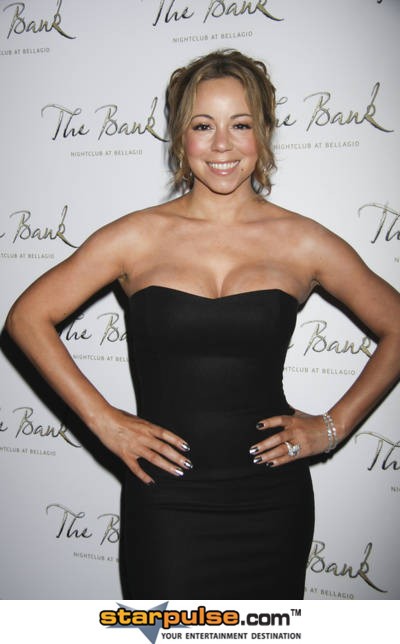 Image © PRN / PR Photos