Mariah Carey Shares Black & White Bikini Pics, Adorable Shot Of Her Twins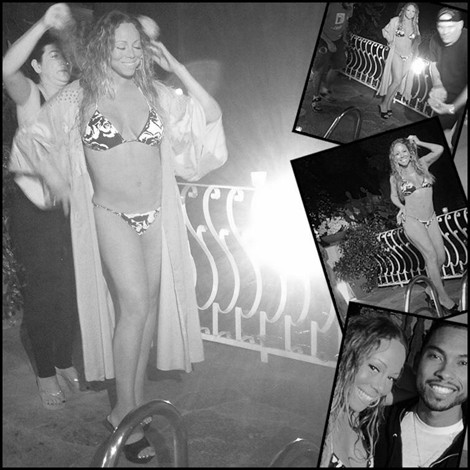 Mariah Carey is an exhibitionist, and her fans love her for it. The pop star flaunted her beautiful bikini bod in a new composite photo she posted on Instagram on Thursday.
The photos were taken last month during a music video shoot in Italy. "In Capri while shooting the #Hermosa video with Miguel!" she captioned the image in which she's featured in a sexy two-piece swimsuit.
Carey is known for showing off her fabulous figure for fans. On July 4th she posted a photo of herself wearing a patriotic red, white and blue bikini.
Over 30,000 people "liked" her latest bikini pic on Instagram, but that's quite a bit less than the 50,000 who "liked' the image she recently posted of her twins Monroe and Morocco.
The 15-month-old boy and girl look adorable while sitting together on a chair. Carey wrote, "Backstage at mommy's concert for the 1st time, Roc gave a Standing O and Roe blew kisses." Awww!
A couple of weeks ago Carey fractured her shoulder and cracked a rib while shooting a music video. She still ended up performing at the Major League Baseball All-Star Charity Concert to benefit victims of Hurricane Sandy - wearing a sling.