Mariah Carey Releases Double Disc DVD 'The Adventures Of Mimi'

Mariah Carey
, one of the most internationally renowned, mega-selling superstars brings her most successful tour,
The Adventures Of Mimi
, produced by Live Nation, to DVD. Fans will get an all-access pass to exclusive content and a chance to experience Mariah like they've never seen her before. Included in the DVD is behind-the-scenes footage, exclusive videos, a karaoke feature and powerhouse performances of Mariah's top smash hits from the past 17 years including, "We Belong Together," "Always Be My Baby," "It's Like That," "Vision of Love" and "Make It Happen." The highly-anticipated double-DVD set will be released exclusively through Best Buy for a limited time only.
The Adventures Of Mimi
is available exclusively at all Best Buy stores in the United States and online at
www.BestBuy.com
now.
"I'm very excited to finally release
The Adventures Of Mimi
on DVD, especially for those who didn't get to see the show live in person" said Mariah Carey. "This particular show had some really special moments that my real fans will truly enjoy."

The Adventures Of Mimi
offers Mariah fans a must have all-access exclusive VIP pass to Mariah's most successful tour. Shot in high definition and recorded in digital surround sound, this large scale, sold-out arena production, produced by legendary award winning producer Ken Ehrlich, is a chance for fans to see Mariah belt out power ballads, hip-hop tracks and pop classics with a special guest appearance by
Boyz II Men
who join Mariah to perform their record-breaking hit duet "One Sweet Day". For her fans, it is a fantasy come true to see her and hear her famous five octave voice.
Also on the DVD, a
Spike Lee
original mini movie called "Lovers & Haters" starring Carey as herself. The fifteen minute spoof chronicles a day in the life of Mariah with the "lovers and haters" she encounters along the way, and how she overcomes those obstacles to still be one of the most talented and loved musical sensations in history.
"We are delighted to make Ms. Carey's powerful performance from
The Adventures Of Mimi
Tour as an exclusive for Best Buy customers," said Gary Arnold, senior vice president of entertainment for Best Buy. "We know fans are eager to celebrate her amazing career and this special DVD set will generate great excitement."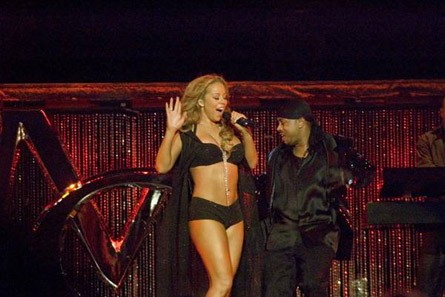 "We've enjoyed a wonderful relationship with Best Buy and we are excited to be working on another amazing release,
The Adventures Of Mimi
Tour DVD," said Steve Sterling, senior vice president of production and programming for Live Nation Artists/ Artist Nation. "We are eager to get this exclusive must-have DVD release into the hands of Mariah fans."
The Adventures Of Mimi
was produced by Mariah Carey, Benny Medina, Ken Ehrlich, and Michael Cohl. (The Live Nation Artists division was formed earlier this year to partner with artists to manage their diverse rights, grow their fan bases and provide a direct connection to fans through the global distribution platform and marketing proficiencies that have made Live Nation the world's largest live music company.)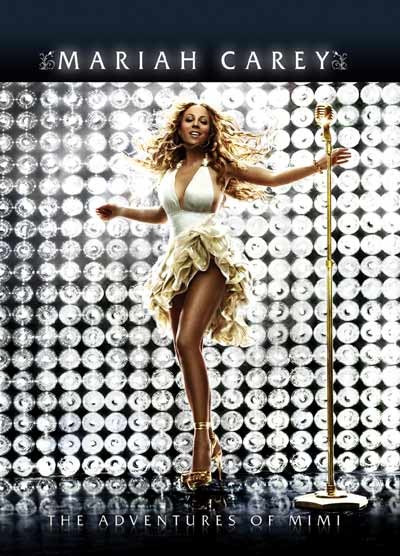 About Mariah Carey
Performer and songwriter Mariah Carey is a mega-platinum award-winning superstar who has been setting and breaking industry records since her career began with five consecutive multi-week #1 Pop/#1 R&B singles in 1990-91. Her total sales of albums, singles and videos to date exceeds 160 million worldwide. Mariah's 10th and most recent studio album, 2005's The Emancipation Of Mimi, is an industry phenomenon - Soundscan's biggest-selling album of the year, with more than 9 million copies sold worldwide. The album generated an all-time career-high of 8 Grammy nominations for Mariah, and won Best Contemporary R&B Album, with "We Belong Together" winning Best Female R&B Vocal Performance and Best R&B Song.
Countless additional awards came Mariah's way during 2005-2006 as a result of Mimi's success, among them six BMI Awards; the American Music Award; four VIBE Awards; and a sweep of the Billboard Music Awards and the Radio Music Awards. "We Belong Together" and "Don't Forget About Us," Mariah's 16th and 17th #1 career singles respectively, tied one of the most enduring chart records in Billboard Hot 100 history, Elvis Presley's 17 #1's. Mariah is now positioned as the only active recording artist in the 48 years of the Hot 100 with the potential to match or surpass the Beatles' all-time high of 20 #1 hits. With 76 total career weeks of #1 hits, Mariah also ranks second only to Presley's all-time high 79 weeks. Mariah is, quite simply, the top female recording artist in history.
About Best Buy Co., Inc.
Best Buy Co., Inc. (NYSE:BBY) operates a global portfolio of brands with a commitment to growth and innovation. Our employees strive to provide customers around the world with superior experiences by responding to their unique needs and aspirations. We sell consumer electronics, home-office products, entertainment software, appliances and related services through approximately 1,200 retail stores across the United States, throughout Canada and in China. Our multi-channel operations include: Best Buy (BestBuy.com, BestBuy.ca and BestBuy.com.cn), Future Shop (FutureShop.ca), Geek Squad (GeekSquad.com and GeekSquad.ca), Pacific Sales Kitchen and Bath Centers (PacificSales.com), Magnolia Audio Video (Magnoliaav.com), Jiangsu Five Star Appliance Co. (Five-Star.cn) and Speakeasy (Speakeasy.net). Best Buy supports the communities in which its employees work and live through volunteerism and grants that benefit children and education.
About Live Nation
Live Nation is the future of the music business. With the most live concerts, music venues and festivals in the world and the most comprehensive concert search engine on the web, Live Nation is revolutionizing the music industry: onstage and online. Headquartered in Los Angeles, California, Live Nation is listed on the New York Stock Exchange, trading under the symbol "LYV." Additional information about the company can be found at www.livenation.com under the "About Us" section.