Mariah Carey & Nick Cannon Kiss & Shop For Expensive Baby Clothes In Paris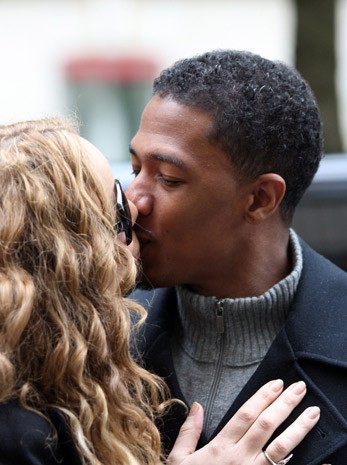 It must be nice to be rich enough to shop for baby clothes on the Champs Elysees in Paris. Mariah Carey and her husband Nick Cannon shopped in luxury boutiques while visiting the City of Light today. Maybe they were buying birthday presents for their twins?
The couple is probably in the French capital to celebrate their fifth wedding anniversary, which takes place on Sunday. Their son and daughter, Moroccan and Monroe, turn one on the same day.
Mariah wore a short maroon dress with a black coat and red and black pumps. Nick opted for a black trenchcoat and a gray sweater.
Nick's show "America's Got Talent" returns on NBC May 14. New judge Howard Stern replaces Piers Morgan on the program.
See more photos of Mariah and Nick in Paris...