Maria Menounos And Derek Hough Kiss On 'Dancing With The Stars' - Are They Dating?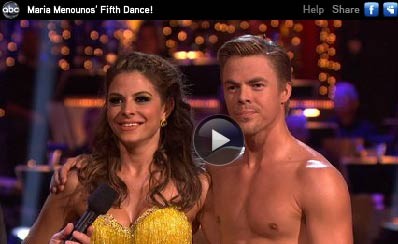 Things got extra steamy during last night's episode of Dancing With The Stars when Maria Menounos and Derek Hough kissed at the end of their Salsa to Ricky Martin's "The Cup of Life".

The dance partners also appeared to smooch after their dance two weeks ago, causing speculation into whether or not they're dating.

Although the two came really close after that Rumba, they never did lock lips - but this week a full kiss was (or, at least, appeared to be) part of the routine.

After their dance, judge Carrie Ann Inaba said, "Wow! That was hot... but I don't think you needed the kiss"; and then accused the couple of selling-out.

And judge Bruno Tonioli added, "Was it legal? Do you want to get a room? Can I join in?"

Hough explained the smooches to Zap2it.com, saying, "Last time I kissed her chin. Last time I failed, basically, so she gave me a chance to redeem myself."

So about those rumors of the two hooking up - are they or aren't they?

Despite the couple's kisses, near kisses, and being spotted together in early March at a Lakers-Celtics game, Maria's reportedly still dating filmmaker Kevin Undergaro, though the couple hasn't been spotted together in public since January.

As for Hough - he's actually rumored to be dating someone else on the show, Welsh opera star Katherine Jenkins.

After Monday's show she tweeted, "Woooaaahh @derekhough you didn't do that in rehearsals! #YoureDumped ;) hahaha #DWTS."

Hough responded, "I'll make it up to you ;) ha."
Watch Maria and Derek's Salsa: