Maria Bello Hosts Fundraiser For Haiti's Earthquake Survivors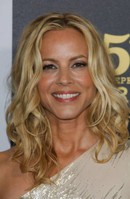 Maria Bello's famous friends helped raise thousands of dollars for aid efforts in Haiti by attending the actress' star-studded charity gala in New York over the weekend.

The Mummy: Tomb of the Dragon Emperor star hosted the Hamptons for Haiti fundraiser at the Ross School in East Hampton, New York on Sunday in aid of her We Advance organization, which helps Haiti's earthquake survivors.

Patricia Arquette, Liev Schreiber and Mariska Hargitay all turned out for the event, which featured an auction with prizes including a visit to the set of Bello's TV show Prime Suspect and a trip to Haiti with the actress.  Also up for grabs was a set visit to watch Hargitay filming Law & Order: Special Victims Unit.

Schreiber said of the event, "I'm impressed with the work Maria's done for the seven months they've been in Haiti. Big NGOs (non-governmental organizations) haven't done as much."

Bello adds, "I was p**sed off about money going to big aid agencies and seeing that things just weren't getting done."