Margaret Cho 'Hurt' By Tracy Morgan's Homophobic Rant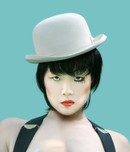 Gay comedienne Margaret Cho has spoken out about funnyman Tracy Morgan's recent homophobic remarks during a stand-up show, revealing she was left "really hurt".

Cho, who has worked with Morgan on TV show 30 Rock, was stunned when she heard the funnyman had made a series of offensive comments about homosexuality at a show in Nashville, Tennessee.
Morgan has since apologized for his remarks, but Cho insists the fact that someone she knows took aim at her community was a big blow.

She tells Access Hollywood Live, "I was really hurt by it. Anytime anybody says anything homophobic in an context, it just murders me. I have been so close to people who have been killed by homophobic violence, and so it's something I can't take lightly.

"I feel odd about it because Tracy's wonderful to work with and I'm surprised... It was an irresponsible thing for him to do. What was amazing is he apologized right away. I'm proud that our community has that power to demand an apology that would come that quickly."

Cho admits that all hurtful homophobic talk brings back terrible childhood memories for her: "When I was a really young girl I had a gay teacher, who knew I was shy but knew there was potential there. So we would write in a journal back and forth to each other."

"One day he didn't come to school and I went to another class and the kids were laughing, saying, 'That f**got got murdered,' and he had been killed by an act of homophobic violence. I was so destroyed I left school. That's why I dropped out of high school. I could not return to that."