Marg Helgenberger Says Justin Bieber Was 'A Brat' While Filming 'CSI'

"CSI: Crime Scene Investigation" star Marg Helgenberger was not impressed by Justin Bieber's childish behavior when he made a guest appearance on the TV drama, admitting he was "kind of a brat."
 
The hitmaker signed on to star as troubled teen Jason McCann last year, and producers were so impressed with his acting, they brought his character back for a second episode earlier this year.
 
But renowned prankster Bieber's cheeky antics off camera did not win him a fan in Helgenberger.
 
Speaking on a French radio show on Friday, she says, "He never acted before. I mean, I shouldn't be saying this but he was kind of a brat.
 
"I only had one (scene with him). He was very nice to me, but he locked one of the producers in the closet, (and) he put his fist through a cake that was on the cafeteria table."
 
The actress won't have to worry about Bieber returning to the "CSI" set for any future stints - McCann was killed off in the February episode.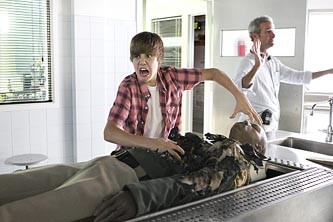 Click for more great Justin Bieber pictures: