Marg Helgenberger Regrets Her Justin Bieber 'Brat' Remarks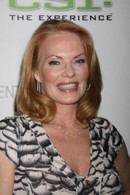 CSI: Crime Scene Investigation star Marg Helgenberger regrets branding Justin Bieber "kind of a brat" after his stint on the show, insisting her comments were made during a "silly" interview.

The Baby hit-maker signed on to star in the TV drama as troubled teen Jason McCann last year, and was asked back for a second episode earlier this year.

Helgenberger shot one scene with the teen idol, but she was unimpressed with his behavior, telling a French radio show, "He never acted before. I mean, I shouldn't be saying this but he was kind of a brat. He locked one of the producers in the closet, (and) he put his fist through a cake that was on the cafeteria table."

However, the actress admits her remarks were inappropriate and she regrets speaking out about Bieber's on-set antics.

She tells BBC's Newsbeat, "Justin - there was one little scene in which we were together. Actually, he was really sweet to me. Comments I made at one point, I regret saying them - not that they weren't true, I said it as part of the interview, being sort of silly."

"I think he's a very talented kid."