Marcia Cross To Ditch Diet After 'Desperate Housewives'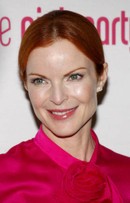 Marcia Cross is looking forward to the end of Desperate Housewives, as she's been on a strict diet regime for the duration of the show.

The actress has played Bree Van de Kamp in the hit series since it debuted in 2004 and she's currently shooting the eighth and final season.

Her co-star Felicity Huffman recently revealed she felt "like an elephant" next to her svelte on-set pals, but Cross admits she's had to work hard to maintain her slim figure.

She tells Britain's Easy Living magazine, "I've had to watch my weight for the show and am looking forward to not having to think about it anymore."

However, the actress - who turns 50 this year - reveals she is also open to cosmetic enhancement in a bid to maintain her youthful looks, adding, "We (on the set of Desperate Housewives) say we'll do anything as long as it doesn't involve a knife! I'd never say no to surgery in the future, because I feel like, as I get older, I'm going to face temptation more."