Marc Jacobs T-Shirt Features Miley Cyrus Naked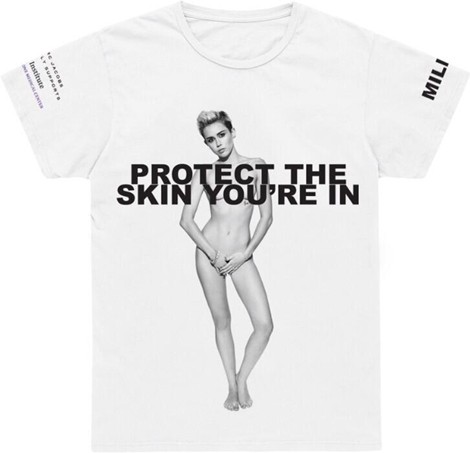 Miley Cyrus is the latest star to get naked for Marc Jacobs' skin cancer awareness campaign. The singer/actress posed completely nude for the "Protect the Skin You're In" campaign, which features the star on a line of t-shirts.
The tees are intended to raise awareness of the disease, and a portion of the profits are alotted for cancer charities.
Cyrus posted a photo of the t-shirt on Twitter with the caption: "Check out my @MarcJacobsIntl #ProtectTheSkinYoureIn tee???We gonna save alot of lives #marcfam." She added: " Ts are available at 9 Marc Jacobs boutiques including SanFran, LA, Chicago, New York, Boston, & Savannah GA!"
Other stars who have posed naked for the campaign include Victoria Beckham, Kate Moss, Heidi Klum, Naomi Campbell, Dita Von Teese and Miranda Kerr.
The former "Hannah Montana" star has been making headlines recently for admitting that her latest single, "We Can't Stop," is about taking drugs at a party. She told London's Daily Mail earlier this week: "I don't think people have a hard time understanding that I've grown up. You can Google me and you know what I'm up to -- you know what that lyric is saying."
Cyrus was also recently photographed wearing extremely short shorts and flashing a bit of flesh to fans and photographers after leaving a club in Britain this week.