Marc Broussard Returns With 'Keep Coming Back,' Due Sept. 16

Atlantic Records is pleased to announce the upcoming release of the eagerly awaited new album from acclaimed singer/songwriter
Marc Broussard
. "Keep Coming Back" will arrive in stores and at all digital retailers on September 16th.
"Keep Coming Back" more than confirms Broussard as an artist uniquely gifted in channeling the multiple spirits of classic R&B and soul into contemporary terms. The Louisiana-based bayou soul troubadour recorded the collection earlier this year in a whirlwind 11-day session at Nashville's historic Ocean Way Studios. Broussard was joined in the studio by his road band, as well as such Music City session stars as keyboardist/accordion player Tim Akers (
Rascal Flatts
,
LeAnn Rimes
,
Keith Urban
) and guitarist Gary Burnette (
Big & Rich
,
Etta James
). "Keep Coming Back" was co-produced by Broussard with his longtime collaborators Justin Tocket and Calvin Turner.
In addition, two noteworthy guests appear on "Keep Coming Back" -- LeAnn Rimes, whose country-meets-swamp-blues turn on "When It's Good" returns the compliment Broussard paid as co-writer and vocal partner on "Nothing Wrong," from her top 5-charting 2007 album, "Family"; and pop/rock sensation Sara Bareilles, who has opened several Broussard tours, and lends vocals to the powerful ballad "Why Should She Wait."
Broussard and his band will herald the album's release with a wide-ranging tour schedule. Among the highlights will be co-headline dates with Sharon Jones and the Dap-Kings, as well as a number of European and North American festivals.
Marc Broussard first drew coast-to-coast acclaim in 2004 with his major-label debut,
Carencro
, a full-blooded take on the blues, soul, Cajun music, rock, and swamp-pop of his native Louisiana, distilled through the talented young tunesmith's flair for smart contemporary songwriting. Broussard quickly won over a legion of devoted fans via nearly non-stop roadwork, including countless headline shows and tours alongside such like-minded musicians as
Dave Matthews Band
,
Willie Nelson
,
Bonnie Raitt
,
Gavin DeGraw
,
O.A.R.
, and
Maroon 5
.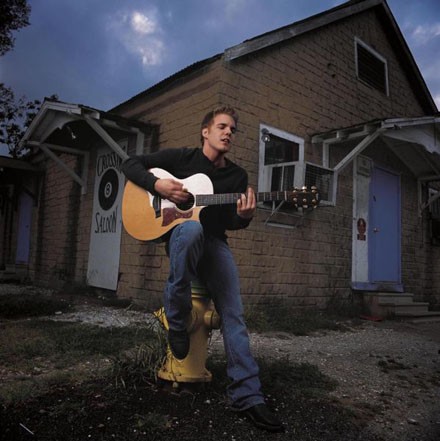 The son of Louisiana Hall of Fame guitarist Ted Broussard (of the legendary blue-eyed soul combo, the
Boogie Kings
), Marc followed up Carencro with 2007's critically acclaimed
S.O.S.: Save Our Soul
. The album saw Broussard and his band plumbing the vaults of historic labels like Motown and Stax to create 11 incendiary performances of soul classics originally recorded by
Al Green
,
Stevie Wonder
,
Otis Redding
,
The Staple Singers
,
Bobby Womack
, and other members of R&B royalty.
Earlier this year, Broussard made his Atlantic label debut with
Must Be The Water
, his first collection of all-new songs since 2004. The five-track EP was highlighted by the fuel-injected title track, which served as the theme for TNT's coverage of the 2008 NBA All-Star festivities.
A torrent of critical acclaim has greeted Broussard's work. "While he reminds one of (Stevie) Wonder, (
Ray) Charles
and even
Donny Hathaway
," noted the
Associated Press,
"Broussard sings with a presence and personality all his own." "Broussard pulls it all off with style," praised Performing Songwriter, "but when he honors his Cajun, soul-singing roots, he becomes one of the most gifted new acts out there, both on the charts and on the road." "One of the best blue-eyed soul singers around these days," decreed the Washington Post, while the Nashville City Paper named Broussard "among the most forceful, animated and truly soulful singers of his generation."
Marc Broussard On Tour 2008
July
25 Portland, OR Oregon Zoo Amphitheater *
27 Seattle, WA Woodland Park Zoo Amphitheater *
August
23 Syracuse, NY Landmark theater
24 Dewey Beach, DE Bottle & Cork
25 Amagansett, NY Stephen Talkhouse
28 Hollywood, CA Roxy theater
29 Yosemite, CA Strawberry Music Festival
30 San Francisco, CA The Independent
September
12 Lowell, MA Boarding House Park
* w/Sharon Jones and the Dap-Kings
More Marc Broussard:
-
Starpulse Page
-
Official Site
-
MySpace Page