Marc Anthony Recording His First English Album In 10 Years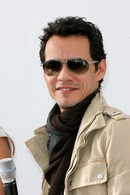 Latin superstar Marc Anthony is aiming to release his first English-language album in a decade next year.

The salsa singer has recorded a total of 11 studio albums during his career, but only two of them have been in English.

However, the wait is over - the Puerto Rican artist is now working on a new project for his non-Spanish-speaking fan base.

Explaining the reason for the delay, he tells Nightline, "It (his music) has to survive the test of time so when I do an album it usually takes me three, four years. Why? Because if I'm not sick of it after four years, I need this in my life."

Anthony's last English album was 2002's Mended.