Manny Ramirez Avoids Domestic Violence Charges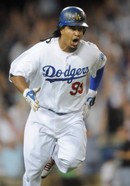 Baseball ace Manny Ramirez has escaped domestic violence charges after allegedly slapping his wife last year.

The former Boston Red Sox and Los Angeles Dodgers player was taken into custody on September 12th following an alleged altercation with his wife Juliana at their Florida home.

Ramirez was later released on bail, hit with a temporary restraining order, which has since been lifted, and formally charged with one count of misdemeanor battery.

And now the sports star is breathing a sigh of relief after the charge was dropped by prosecutors this week.
A representative for the State Attorney's Office tells TMZ.com, "The state dropped the charge because the victim was uncooperative. She successfully avoided being served with a state subpoena and is believed to be out of state."

Ramirez, who was suspended from baseball for violating the game's drug policy in 2009, retired as a Tampa Bay Rays player last year after reportedly testing positive for a banned performance-enhancing drug.

He is now making a comeback with California's Oakland Athletics.