Manic Street Preachers Nominated For New Welsh Music Award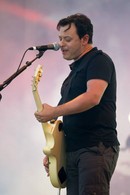 British rockers the Manic Street Preachers will compete against the likes of The Joy Formidable and Funeral For A Friend for the newly-established Welsh Music Prize.

The award is designed as the equivalent to the U.K.'s prestigious Mercury Music Prize and a shortlist of 10 artists was released this week.

The A Design For Life hit-makers have been nominated for their album Postcards From A Young Man, while The Joy Formidable's The Big Roar and Welcome Home Armageddon by Funeral For A Friend are among the records in competition.

Other artists in the running for the inaugural award include Gruff Rhys (Hotel Shampoo), Colorama (Box) and Y Niwl's self-titled release.

The winner will be unveiled during the SWN festival in Cardiff in October.