Mandy Moore And Billy Crudup Star In 'Dedication,' On DVD February 12

An emotionally complex author meets a blessing in disguise in the hip romantic comedy
Dedication
, arriving on DVD just in time for Valentine's Day on February 12th from Genius Products and The Weinstein Company.
The directorial debut of actor
Justin Theroux
("
Six Feet Under
",
Charlie's Angels: Full Throttle
),
Dedication
is a modern love story starring multitalented artist
Mandy Moore
(
Saved!
,
License to Wed
,
A Walk to Remember
),
Billy Crudup
(
Almost Famous
,
Stage Beauty
,
Mission: Impossible III
), and Academy Award® nominee
Tom Wilkinson
(
Cassandra's Dream
,
Michael Clayton
,
In The Bedroom
).
Set against a bustling New York City,
Dedication
also features performances by two-time Academy Award®-winner
Dianne Wiest
(
Bullets Over Broadway
,
Hannah and Her Sisters
) and Academy Award® nominee
Bob Balaban
(
Gosford Park
,
Lady In The Water
).
Dedication
is a modern, charming love story about two individuals finding themselves dedicated to their own heart-warming chemistry.
Henry Roth (Crudup) is messed up. When he is forced to team with beautiful illustrator Lucy Riley (Moore) after his best friend and creative collaborator passes away, Henry struggles with letting go of the ghosts of love and life as he discovers that sometimes you have to gamble at life to find love.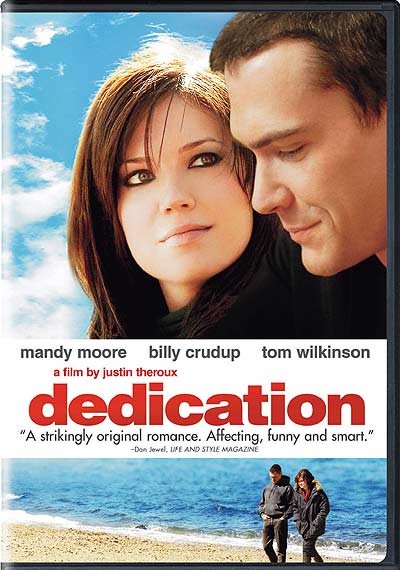 About Genius Products: Genius Products, Inc. (OTCBB:GNPI), along with The Weinstein Company Holdings LLC, together owns Genius Products, LLC, a leading independent home-entertainment distribution company that produces, licenses and distributes a valuable library of motion pictures, television programming, family, lifestyle and trend entertainment on DVD and other emerging platforms through its expansive network of retailers throughout the U.S. Genius handles the distribution, marketing and sales for such brands as Animal Planet, Asia Extreme(TM), Discovery Kids(TM), Dragon Dynasty(TM), Dimension Films(TM), Entertainment Rights group companies (Entertainment Rights, Classic Media and Big Idea), ESPN®, IFC®, RHI Entertainment(TM), Sesame Workshop®, TLC, The Weinstein Company® and WWE®. Genius Products, Inc. is the managing member of Genius Products, LLC, in which it holds a 30% equity interest.
About The Weinstein Company: The Weinstein Company was created by Bob and Harvey Weinstein, the brothers who founded Miramax Films Corp. in 1979. TWC is a multi-media company that officially launched on October 1, 2005. Dimension Films, the genre label that was founded in 1993 by Bob Weinstein, is also included under TWC banner. The Weinstein's are actively working on the production, development and acquisition of projects for TWC.