Mandi Perkins' Debut, 'Alice In No Man's Land,' Out Aug. 5

Sony BMG recording artist
Mandi Perkins
is an intensely passionate and charismatic singer/songwriter who creates uncompromising melodic rock. She writes about her life and those around her in a musical form of empathy, which makes listeners, care, think and question.
Born and raised in Toronto, Canada, Mandi began writing and performing when she was very young and her childhood included musical theater, vocal competitions and writing every chance she could. Her ambitions inspired a move to California to pursue both a career in music and to attend UC Berkeley where she graduated with Honors in English Literature. Immediately following graduation, Mandi made a move to Los Angeles in order to pursue a career in music while simultaneously attending law school. She recently graduated, passed the California State Bar (albeit playing a gig a few weeks before!) and completed her first independent album, "bleeding the line …," with help from some of the biggest names in the music industry.
"Bleeding the line …," a 12 track album written by Mandi was released digitally through De Novo Music/INgrooves in August 2007 and featured several collaborations with Ryan Tedder of
OneRepublic
. Via myspace, Mandi garnered much attention for her music - she currently has 2 million profile views, 3.5 million total plays and 85,000 friends. Her music has been featured on MTV's
Laguna Beach
,
The Hills
and
The Real World
and she has gained many fans along the way including Jeff Rosen,
Bob Dylan
's longtime head of publishing, who, drawn by Mandi's song lyrics and charismatic personality, introduced her to executives at Sony BMG and subsequently helped her get a record deal through Fred Ehrlich's label venture with Sony BMG's Victor Records. Upon signing the deal, Mandi immediately began work on her major label debut album, "Alice In No Man's Land."
Watch the video for "Who I Am":
When discussing the album, Mandi states that, "Each song stems from my own personal experiences, the lives of the people closest to me and those I meet along the way. I write songs from my stomach and will take an event that has happened to me immediately following its conclusion and I will stretch it out until it's at the rawest form. Once I have the emotion explode on paper, I am much more at ease. Songwriting is cathartic for me. I think it's great to passionately feel, but there is a point when you should make sure you have an outlet, especially when the excess baggage takes control of your life. Hopefully listening to my music will be cathartic for other people."
Mandi Perkins' major label debut album "Alice In No-Man's Land" comes out on August 5, 2008, on Sony BMG's Victor Records.
"Mandi Perkins is undoubtedly one of the freshest, most prolific songwriters to hit the U.S. from our North American neighbor. Consistently delighting audiences with her enthusiastic performances, her 'take no prisoners' attitude, and her contagious melodic rock, Perkins is set for fame." - BMI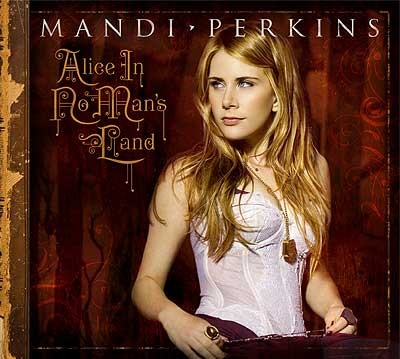 Track Listing
1. Why Pretend
2. Why (You Confuse Me)
3. Who I Am
4. Everybody Knows
5. Alice In No Man's Land
6. Condemned
7. I Fall Down
8. Crawl
9. Broken Window
10. Maybe One Day
11. So I Wait
12. Never Enough
13. This Is Really The End
Upcoming Tour Dates
July 27 Red Devil Lounge San Francisco, CA
July 29 Hawthorne Portland, OR
July 30 High Dive Seattle, WA
Listen to some of Mandi's songs at her
Official Site
and on her
MySpace Page
.