Malin Akerman Impressed With Tom Cruise's 'Surreal' Singing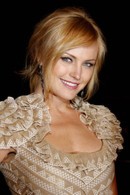 Tom Cruise's singing skills have been given the thumbs-up by his Rock Of Ages co-star Malin Akerman, who is convinced the actor could "be an opera singer if he wanted to."

The Top Gun star will show off his musical prowess with a lead role in the upcoming movie adaptation of the hit Broadway show, and one scene sees him sing a duet with the Watchmen actress.

Akerman has now opened up about working with Cruise on the movie-musical, which is currently shooting in Florida, revealing his voice is so powerful; he could be a successful opera star.

She tells E! Online, "It's kind of surreal, to go in and do, like, a duet with Tom Cruise. We sing I Want to Know What Love Is together, which is sick (good). So we had a really great scene, Tom and I. He was absolutely amazing to work with."

"You will be shocked. I kind of wasn't that surprised, because when Tom does something he does it 150 per cent. So he really just brought his f**king game and he sounds like a rock star. I'm not kidding. He could be an opera singer if he wanted to."

"His voice is really powerful."