Malin Akerman Frustrated Her Linda Lovelace Biopic Has Stalled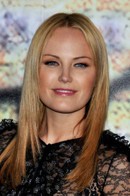 Watchmen star Malin Akerman is preparing to bare all again onscreen - if her Linda Lovelace biopic ever gets made.

The actress replaced Lindsay Lohan as the adult actress-turned-anti-porn advocate in Inferno: A Linda Lovelace Story last year, and she's frustrated about the fact filming has yet to start as Amanda Seyfried's rival Lovelace biopic nears completion.

Akerman tells Access Hollywood, "We're still waiting for the financing to come in and so hopefully that'll come soon, because the other one (Lovelace biopic) is already done I believe."

She can only hope that the hype surrounding Lovelace, which also features James Franco as Hugh Hefner and Sarah Jessica Parker as feminist icon Gloria Steinem, aids her movie.

She adds, "It creates a little bit of a buzz, but we've gotta make ours in order to create that buzz. I'm ready to roll. I'm ready to take these clothes off again."

And the actress insists her Lovelace movie will be very different to Seyfried's: "It's a very dark story of her life, her as an abused woman. It'll be a dark place to go into but I'm looking forward to it."