Male Celebrities That Have Jumped The Shark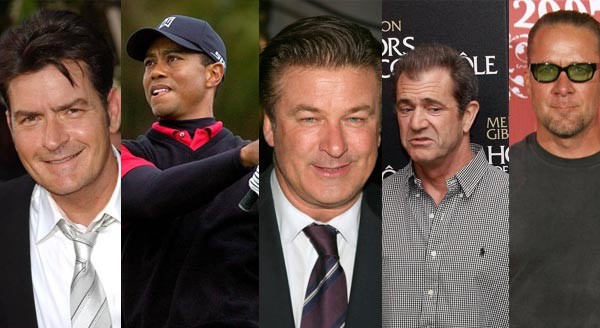 To "Jump the Shark" is to reach your peak before going immediately downhill. These are the male celebrities that have made devastating decisions and Jumped the Shark.
Charlie Sheen: Who knows what exactly happened to make Sheen snap? Perhaps he was simply bored with the monotony of making Two and a Half Men every year, despite the huge sums of money he was earning? Whatever the case, he has certainly changed things up. At least it was on his own terms!
Tiger Woods: Worst. Thanksgiving. Ever. Woods' life became tabloid fodder after his wife allegedly tried to brain him with a nine iron. Then the parade of women came out and claimed that Woods made cheating a sport... where higher numbers are better.
Alec Baldwin: At least Baldwin is slowly "unjumping his shark." Thanks to his brilliant performances on 30 Rock, few remember that Alec called his daughter a "pig" on a leaked voicemail during his messy divorce from Kim Basinger. Even fewer remember he was married to Kim Basinger.
Mel Gibson: At one point, Mel Gibson was the man: Mad Max, Lethal Weapon, Braveheart... Disney even tapped him to be the voice of John Smith in Pocahontas. Then, as Charlie Chaplin said, "A man's true character comes out when he's drunk." 
Jesse James: The tattooed version of Tiger Woods. He had one of Hollywood's leading ladies infatuated with him. He could get a TV show whenever he wished. James then threw all that away for a collection of not-so-hot ladies with some ink.
What do you think? Who else Jumped the Shark? Who can redeem themselves?