Malawi President Calls Madonna A Bully, She Reponds To His 'Lies'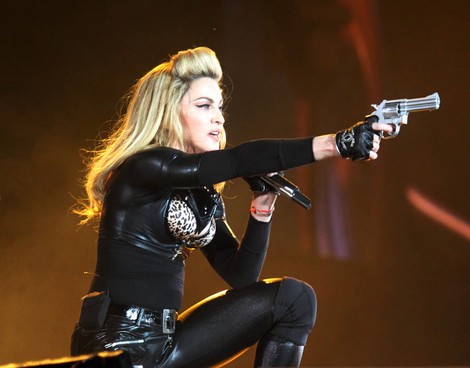 Madonna traveled to Africa on Easter Sunday to meet orphans and check on educational projects that have been funded through her charity. However, the visit was mired by an airport controversy in which the pop star reportedly demanded VIP status. Then the office of Malawi President Joyce Banda issued a scathing letter slamming the singer.
Madonna was allegedly deeply angered when airport officials made her stand with other passengers before she was frisked by security. In reaction to these reports, Banda's office issued a strong statement chastizing her.
"Granted, Madonna is a famed international musician. But that does not impose an injunction of obligation on any government under whose territory Madonna finds herself, including Malawi, to give her state treatment. Such treatment, even if she deserved it, is discretionary not obligatory," the letter reads.
The letter also accuses the singer of "bullying state officials" and shoots down Madonna's claims that her charity has constructed 10 schools in the country, stating she had merely funded the refurbishment of several classrooms at existing educational facilities.
The letter also suggests Madonna "wants Malawi to be forever chained to the obligation of gratitude."
The pop star followed up with a statement of her own, declaring and branding the content of Banda's letter "lies" and denying she demanded special treatment during her trip.
She writes: "I'm saddened that Malawi's President Joyce Banda has chosen to release lies about what we've accomplished, my intentions, how I personally conducted myself while visiting Malawi and other untruths.  
"I have no intentions of being distracted by these ridiculous allegations. I came to Malawi seven years ago with honorable intentions. I returned earlier this month to view the new schools we built. I did not ever ask or demand special treatment at the airport or elsewhere during my visit. I will not be distracted or discouraged by other people's political agendas. I made a promise to the children of Malawi and I am keeping that promise."
The singer has two adopted children from the African country..