'Major Crimes' Vet Ransford Doherty Guest Stars on 'Touch'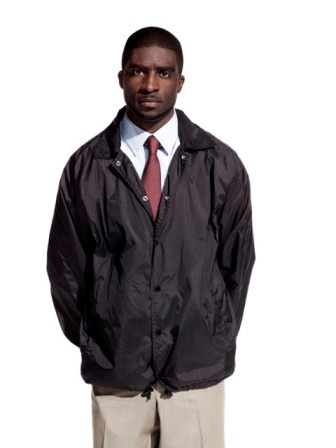 Tonight's Touch premiere features a guest appearance by Ransford Doherty, best known as Kendall on TNT's Major Crimes. BFTV caught up with Ransford before tonight's premiere to chat about his acting roles - and his other commitment to children as a substitute teacher.
"Coming from a Sierra Leone, West African family, being an actor is not the typical career path one chooses," Ransford said. "In fact, my initial major at Longwood College was Political Science, but my heart wasn't in it.  My counselor then suggested that I pick something that I would actually enjoy learning, so I decided to major in Theatre Performance.
"My college acting professor, Pam Arkin, was the one who convinced me that I should pursue acting as a career," he continued. "After two weeks of taking acting classes and hearing the pitfalls of the acting business from a fellow theatre student, I went to Professor Arkin and told her I wanted to quit. She, of course, was not having that and told me stick with it. She then told me about all the acting opportunities for African Americans.  Her advice made sense, so I took it and haven't looked back ever since!"
He's since played Coroner's Investigator Kendall in both The Closer and its spin-off series Major Crimes. Asked what draws him to a role, "The flow of the story is what I look for," he explained. "The better the writing, the easier it is for me to connect to the character, know the scene and bring the character's action to life. In fact, it makes playing the role enjoyable."
"It's surreal," he said of continuing his recurring role across two different TV series. "I pinch myself every time I'm on set and count my blessings! I just show up and enjoy the ride."

Touch isn't the only acting project that Ransford has been working on recently; he's part of an online series that's close to his heart. "I also am working opposite Hector Luis Bustamante, who I met on the set of Hostage, in a web series called Caribe Road," he said. "It follows the story of U.S. Special Forces commander Mark Caribe, who is hell bent on starting a new life away from the military after a covert mission goes terribly wrong. But first, under the orders of the President, Caribe must accept the command of a new elite combat unit called SFT1. Caribe hopes this move will lead him to the terrorist who kidnapped his daughter. I play the role of James Crews, a team member and sidekick to Mark Caribe.
"I'm really proud that I am working on Caribe Road," Ransford continued. "Having served in the US Army Reserve and having two family members currently serving overseas - [my] fraternal twin brother Major Beresford Doherty [and] sister Captain Hileen Mallory) - it's a way for us to say thank you, to show appreciation for all the men and women who sacrifice so much to protect our freedom." You can check out Caribe Road by visiting the official website.