Maggie Q Gets Naked For PETA, Asks People To 'Go Veg' (Photo)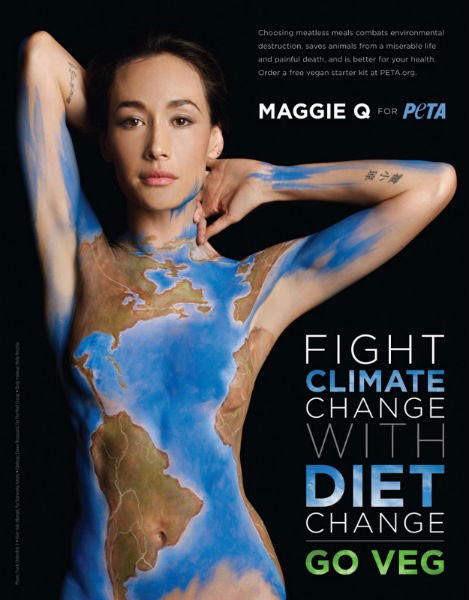 "Nikita" star Maggie Q has stripped for a cause close to her heart. The actress reveals all in a new People for the Ethical Treatment of Animals (PETA) campaign poster aimed at convincing people to eliminate meat products from their diet.
The edgy new PETA billboard reads, "Fight Climate Change With Diet Change. Go Veg" and features the vegan actress naked with her body painted like planet earth.
The poster debuted above the Sunset Strip in Los Angeles on Thursday and will remain there for one month.
Maggie Q told WENN, "There's so many issues tied to the meat industry. I mean, social, environmental, humanitarian - all of them. I know that when I'm eating that I'm not hurting the planet, I'm not hurting other people on this planet, I'm not hurting animals... and I'm not hurting nature."
PETA's meat-free campaign includes a bunch of celebrities, including Alicia Silverstone, Casey Affleck, Paul McCartney, Joaquin Phoenix and Forest Whitaker. All of these stars have teamed up with the group to promote vegetarian and vegan eating.