Maggie McClure Continues Her Steady Climb With 'Time Moves On'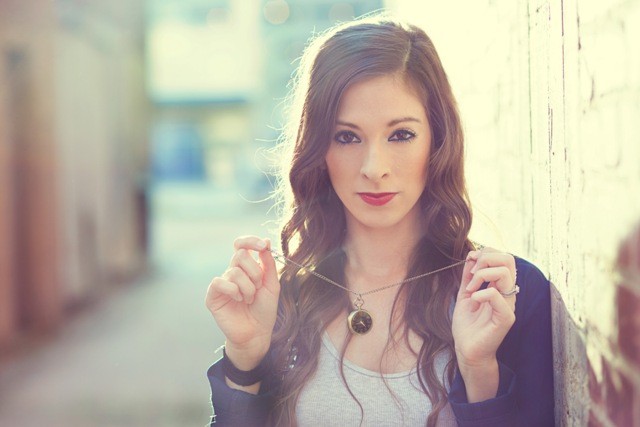 Maggie McClure isn't wasting any time. The Los Angeles-based singer, songwriter and pianist is celebrating the release of her latest album, Time Moves On, and visited BFTV last week to tell us all about it.
"I am extremely proud of this project for many reasons," she said. "The process has taken about a year from the time of writing to the time of releasing, [and] I am just extremely proud of every single song. I'm excited that my producer, Justin Glasco, and I were able to find a certain sound without even trying that hard.
"I'm proud of the fact that this album is just a natural progression from my album before. The production value, I think is very high. I'm just proud of it in every single way. From the songs, to the production, to my working relationship with Justin, to the musicians that played on the album, even to the artwork."
"The important stuff I think people should know is that I play piano. I've been playing since I was five, and I write all of my songs at the piano. I'm also a musician as well as a singer-songwriter," Maggie continued. "I also really think it's important to get across that I try to have a lot of substance in my music. When you say pop, it can be so generic. I try to write songs that are from my heart and can impact people in a positive way."
You can listen to the title track from Time Moves On below.
Maggie will be hitting the road in support of the album, beginning in her native Oklahoma and then returning to the West Coast for a series of shows across California, ending at one of BFTV's favorite venues, Hotel Cafe in Los Angeles. While a sold-out tour or a smash hit album would be great, that's not what drives her. "I honestly think that if I do anything in msuic for the rest of my life I'm going to be fulfilled and happy. That's what really matters," she told us.
"For me, music is my passion and my life and I love it so much. Being involved in the music business, however possible, and being able to pay the bills, that's the ideal goal. Definitely for me it is not a matter of wanting to be famous. I just want to have a positive impact on people that listen to my music and be able to still create music."
Since her move to Los Angeles, she's seized on the opportunity to get her music into the entertainment world. You've heard her songs on shows like Dr. Phil, The Real World and The Young and the Restless. Maggie lends her voice to the title character in the English version of Disney Channel Latin America's animated series Violetta. And you might have spotted her in the background of Matthew Morrison's video for his song "It Don't Mean A Thing."
How has she been so productive? Maybe because she does almost everything herself: in addition to being the artist, Maggie also functions as her own record label, manager, and booking agent. And maybe because she has her heart in the right place. Just listen to her recount the music experiences that have meant the most in her life, and explain why they moved her.
"Probably three or four years ago," she reflected, "I got to see Paul McCartney in Tulsa, and that was an incredible concert. I was just so impressed with his stage presence and confidence and humbleness. I was extremely impressed with the fact that he never took a drink of water for about three hours, and he played non-stop for three hours. I just was reminded how much perseverence and time and dedication it takes to get to that level. That concert was just very eye-opening.
"[And] when I was starting out, I would say I was probably thirteen years old, my mom took me to see Sarah McLachlan in Oklahoma City," she continued. "She sang like an angel, beautifully. In between songs, her voice sounded horrible [because] she was so sick, but when she sang, no one would know. It was absolutely perfect. And I just remember that being so inspiring to me."
Now she's hoping she can touch the lives of others. "I hope that people will be encouraged and inspired by [my songs]," she told us. "I hope that each one of them makes the listener really think about their life, and I hope that the music that I'm releasing is making a positive impact on people in general."
Time Moves On is out now. For more on Maggie, you can visit her website (maggiemcclure.com), her YouTube page (youtube.com/maggiemccluremusic), and follow her on Twitter (@maggiemcclure).
(c)2013 Brittany Frederick. Appears at Starpulse with permission. All rights reserved. No reproduction permitted. Visit my official website and follow me on Twitter at @tvbrittanyf.
Photo Credit: Melissa Cosper/Courtesy of Skye Media