Maggie Lawson Gets 'Back In The Game'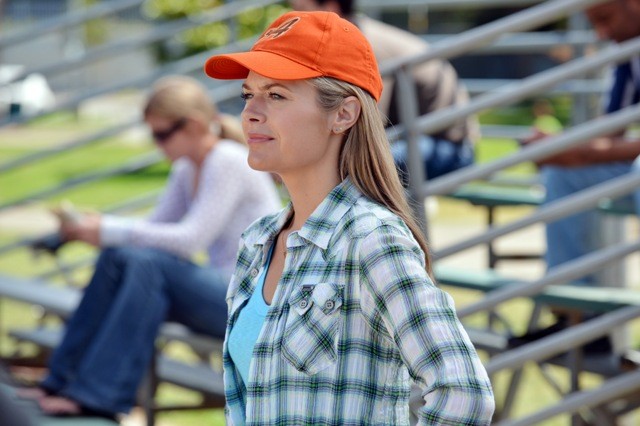 Maggie Lawson is now doubly awesome. The Psych star is bringing her charm, talent and beauty to Back In The Game, the new ABC sitcom where she plays former star athlete turned single mom Terry Gannon, Jr. Maggie took some time out on Friday to give BFTV the dish on tonight's new episode and what it's like to feature on two shows, as well as what her role on Back In The Game means for the future of Juliet O'Hara on Psych.
The new job makes her the second USA Network alum to star on two shows in the same season (after Burn Notice star Coby Bell, who also played in BET's The Game), and Maggie reassured us that Juliet won't be being bumped off Psych. "God, no," she told us. "It's increased [my workload] quite a bit, but no change. I'm doing both, and we're still waiting to hear on Season 9 for Psych, and everybody over on Psych has been so supportive. It'll all work out no matter what. They've worked together on making it happen schedule-wise. Juliet's not going anywhere."
Now that we can all relax, what has it been like for her to step into a new series and a new character? "It's kind of amazing," Maggie said. "I love the character. That was sort of the first thing that drew me to it. I love baseball, so there was that to it as well. I feel really blessed, I feel really lucky. It might be more work, but at the same time I've been blessed to play two really, really amazing female characters."
Her role on Back In The Game presents lots of things we haven't necessarily seen from Maggie before, because Terry has a lot on her plate. Her softball career was derailed when she got pregnant in college, and she's ended up with a marriage and a divorce. She's also had to move back in with her father (played by James Caan), whose history - as a former baseball player and single father - uncomfortably parallels her current situation.
"I feel like Terry is different from Juliet. There's a darker quality, probably, to Terry, or a little more subdued," she continued. "I think for Terry, she was sort of raised as a boy and now we're going to get to know her. She's just getting to know herself as a woman. She sort of has to get to know herself, maybe for the first time in her life. I think with that comes a lot of challenges that I'm excited to play. I think we're going to see her all over the place, which for me is fun to play. She may have a night out with her friend Lulu and for her, she's going to make up for like ten years of never going out in one night, and it goes horribly."
In tonight's episode, "Stay In Or Bail Out," Terry is determined to find a job so that she can move out from under her father's roof. What other jobs did Maggie consider before she became an actress? "I've always wanted to work with dogs, so in high school, I worked at the Humane Society for a little while," she revealed. "I honestly think, even today, that would be the other career I would go into. Somehow I would be involved with animals."
There are also some great scenes that involve the rest of Terry's family. "I think there's some really great stuff happening between The Cannon and Danny in this episode," Maggie added. "They're jumping to a whole new level. The Cannon, who sort of hasn't been in [Danny's] life very much, is now playing a really important role. He's the man in his life. And watching them play off of each other is really special. It's funny, but it's also kind of sweet at the same time."
Look for Terry's father to try to help her son overcome his fear of being hit by the baseball, but in a very unconventional way. "He takes him to a prison to kind of knock the fear out of him," Maggie revealed. Somehow, we don't think "The Cannon" is going to win Father of the Year.
We now know she's a baseball fan, and it's baseball season, so which team would we find her cheering for? As it turns out, her loyalty is split. "I grew up in Kentucky, so we do not have a pro team. My family was split between the Cubs and the Reds," she told us. "I would say I go Cubs usually. That's sort of where I grew up. My older brother was a huge Reds fan."
She's also rooting for Back In The Game to find the same devoted audience that Psych has enjoyed. "I feel like we have something special," she reflected. "Every day we have a blast." We say that anything that gives us more of Maggie Lawson is always a good idea.
Back In The Game airs tonight at 8:30 PM ET/PT on ABC.
(c)2013 Brittany Frederick. Appears at Starpulse with permission. All rights reserved. No reproduction permitted. Visit my official website and follow me on Twitter at @tvbrittanyf.