Mads Mikkelsen To Be Honored At European Film Awards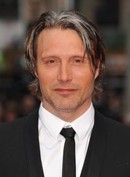 Bond baddie Mads Mikkelsen will be honored for his career achievements at the European Film Awards in December.

The Danish star, who played villainous Le Chiffre in Casino Royale, has been feted by bosses at the European Film Academy for his "unique contribution to film" with the Achievement in World Cinema Award.

Mikkelsen says, "There is very little to say when you are honored with an award of this caliber other than that I am deeply grateful."

The 45 year old started his career in 1996 Danish film Pusher before gaining recognition for Emmy Award-winning TV show Rejseholdet.

He made his Hollywood debut in 2004 opposite Clive Owen in King Arthur before appearing in Clash of the Titans and The Three Musketeers.